Fried Flounder with Zucchini Strips
Fried Flounder with Zucchini Strips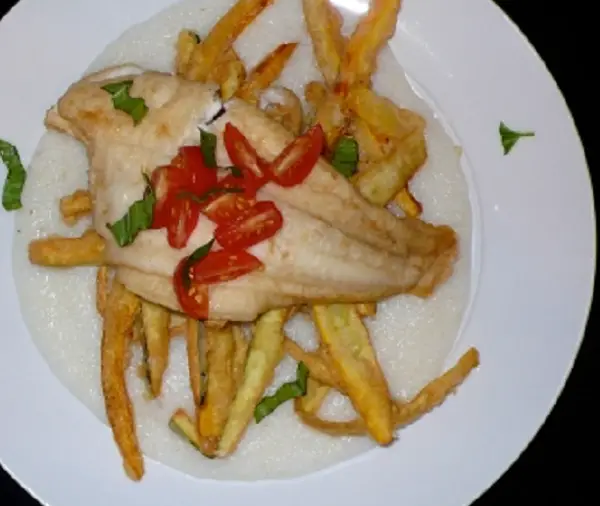 Ingredients
    2 large zucchini

    1 pound of flounder fillets

    2 eggs, beaten

    Flour, as much as needed to coat the zucchini & the flounder

    Oil for frying the zucchini & flounder, enough to fill the pan an inch or two

    Paper towels

    Salt & pepper to taste
Directions
Cut the zucchini lengthwise into 1/4 inch strips. Beat the eggs in a bowl and put the flour on a separate plate. Heat the oil in a frying pan over medium heat until it sizzles when you drop some flour in the oil. This indicates that the oil is ready for frying.

Preheat the oven to the lowest setting and place a paper towel lined plate in the oven to keep the zucchini warm until it is served.

Dredge slices of zucchini in the flour, shaking off the extra flour and then smother with the beaten eggs.

When it is well coated carefully ease into the hot oil, repeat with as many slices as will fit into your frying pan without crowding.

Let the zucchini brown on both sides turning after about a minute or two. When they are golden brown remove from the hot oil, hold them over the oil to drain of excess oil and place on a plate lined with paper towels.

Repeat this process with the rest of the zucchini, piling them on the plate with paper towels between each layer.

I used the same oil for frying the flounder that I had used for the zucchini, the flounder will pick up some of the zucchini flavors, some, and that way you aren't using an entire bottle of oil for this dish, though a considerable amount.

Dredge the flounder in the flour, the oil should still be hot enough to fry the flounder after the zucchini.

Drop the flounder in the hot oil and cook for about a minute or two on each side.

 Remove from oil to a paper towel and serve immediately by

Placing a good portion of the zucchini strips top that with the flounder fillet.

Add a few cherry tomatoes and basil for garnish.