Galletti Pasta with Braised Short Rib Sauce
Galletti Pasta with Braised Short Rib Sauce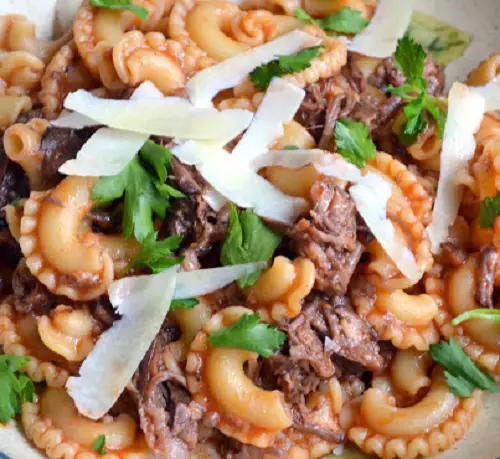 Galletti Pasta with Braised Short Rib Sauce
Ingredients
3 Large Short Ribs

2 Cups Red Wine

4 Cups Beef Broth

1/2 Bunch Celery, chopped

3 Large Carrots, chopped

1 Onion, chopped

3 Garlic Cloves, chopped

1 Shallot, chopped

1/2 Teaspoon Dried Thyme (or 6 fresh sprigs)

2 Tbs Olive Oil

1/2 6 oz Can Tomato Paste

1 14 oz Can Tomato Sauce

1 Pound Pasta (not pictured)

1/2 Cup Freshly Grated Parmesan, more for serving

1/4 Cup Parsley, chopped

Salt and Pepper
Directions
Heat the olive oil in a pan.

 Season each side of ribs and brown on each side over medium high heat.

Remove from pan.  Add celery, carrots, shallot, onion, and garlic to the pan and saute until veggies become softened, about 5 minutes.  Add thyme and salt and pepper.

Add ribs back in and add wine and beef stock.

 If using a slow cooker, cook on highest setting for 4.5-5 hours or until meat become incredibly tender and easily pulls apart.  Pull as much meat as you can off the bone and set aside.

In a pan, combine 2 cups of the braising liquid, the tomato paste, braised short rib meat and sauce.  Simmer until sauce begins to thicken.  This will take about 15-20 minutes.

Cook pasta to packages instructions and toss the sauce and the pasta together.

Toss in the Parmesan and parsley.  Add additional Parmesan on top before serving and enjoy.

 *If not using a slow cooker, you can cook the short ribs in an oven safe dish with lid on 375 degrees for 3-4 hours or until tender.