Garlic Soup with Shrimp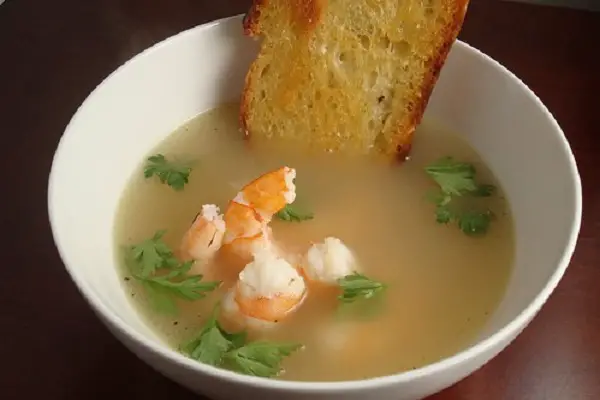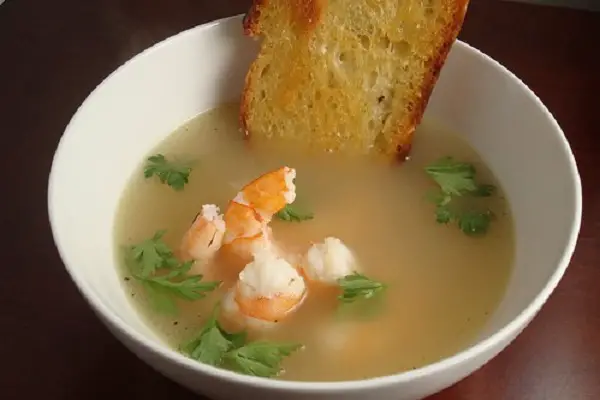 Ingredients
Makes 2 servings
2 tablespoons extra virgin olive oil

8 medium to large cloves garlic, peeled

Salt and freshly ground black pepper to taste

2 thick slices Italian bread

3 cups shrimp stock, chicken stock, water or a combination

10 large shrimp, peeled (deveining is optional)

Minced fresh parsley leaves for garnish (optional)
Directions
Combine olive oil and garlic in a deep skillet or broad saucepan and turn heat to medium.

Sprinkle cloves lightly with salt and pepper, and cook, turning occasionally, until they are tender and lightly browned all over, about 10 minutes; lower heat if they seem to be browning too quickly.

 Remove garlic with a slotted spoon.

Turn heat to low and add bread; cook on each side until nicely browned, about 4 minutes total.

 Remove bread, add stock and raise heat to medium high.

When stock is nearly boiling, add shrimp and salt and pepper to taste.

Cook until shrimp are pink, about 2-4 minutes.

Place a piece of bread and some garlic cloves in each bowl; then ladle in a portion of soup and shrimp.

Sprinkle with parsley and serve.