Gemelli with Grilled Sausage & Scamorza
Gemelli with Grilled Sausage & Scamorza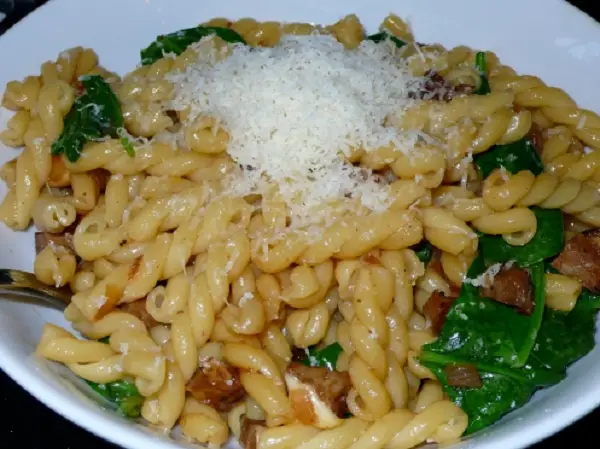 Ingredients
    1 onion, chopped

    1 grilled sausage, chopped into small pieces

    A few ounces of scamorza cheese, chopped into small pieces

    3 tbsp extra virgin olive oil

    1/2 cup of white wine

    1 cup fresh spinach, packed

    1/2 lb of short pasta like gemelli

    Grated parmigiano reggiano
Directions
Fill a large pot with water for the pasta. Bring to a boil over high heat

Heat oil in a wide saucepan over medium-high heat and add the onion.

When the onion becomes transparent, add the chopped sausage.

 Add the white wine and bring to a simmer. Lower the heat to a very low setting and allow the onions and the sausage to start to caramelize, this should take about 15 to 20 minutes, though you should check it to make sure it doesn't burn.

Once the water starts to boil for the pasta add a small handful of salt to the water and bring to a rolling boil. Add the pasta and cook until al dente.

When the pasta is perfectly al dente, drain the pasta. Without shaking all of the water out of the colander pour the pasta into the pan, add the spinach and and the scamorza cheese and toss until the spinach has wilted.

Serve immediately with grated parmigiano reggiano.