Insalata di Seppie e Patate (Cuttlefish and Potatoes Salad)
Insalata di Seppie e Patate (Cuttlefish and Potatoes Salad)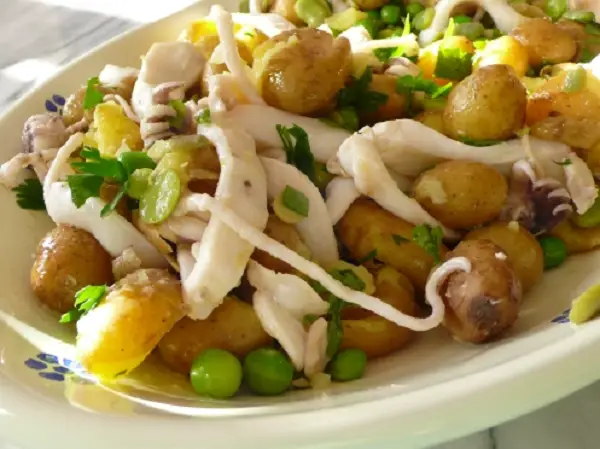 Ingredients
    800 grams (1.75 lbs) cuttlefish, cut into rings or small cuttlefish

    5 white potatoes

    200 grams (1/2 lb.) shelled fresh peas

    200 grams (1/2 lb.) shelled fresh fava beans

    2 lemons

    1 sprig of parsley, minced

    Extra virgin olive oil

    Salt and pepper to taste
Directions
Bring a pot of water to a boil, add a slice of lemon, 2 tablespoons of its juice and salt to the water. Rinse the cuttlefish well and boil for 30 minutes.

Clean and scrub the potatoes and boil in salted water and cook until tender when pierced with a fork. Drain and cool. I used little fingerling potatoes and didn't peel them, just squished some of them with the back of a spoon. If using larger potatoes, once they have cooled, peel and cut into small pieces.

Rinse the peas and the fava beans and boil in salted water for 10 minutes. Drain and rinse under cold water to stop the cooking, an ice bath would work as well, if you have ice (we don't at the moment).

In a large bowl toss the cuttlefish, the potatoes, peas and fava beans together. Add the parsley, salt, freshly ground pepper the remaining juice of the lemons  and the olive oil, as much as you think necessary. Toss well and serve at room temperature or cold.