Gnocchi all'Aglione (home-made gnocchi with Tuscan garlic tomato sauce)
Gnocchi all'Aglione (home-made gnocchi with Tuscan garlic tomato sauce)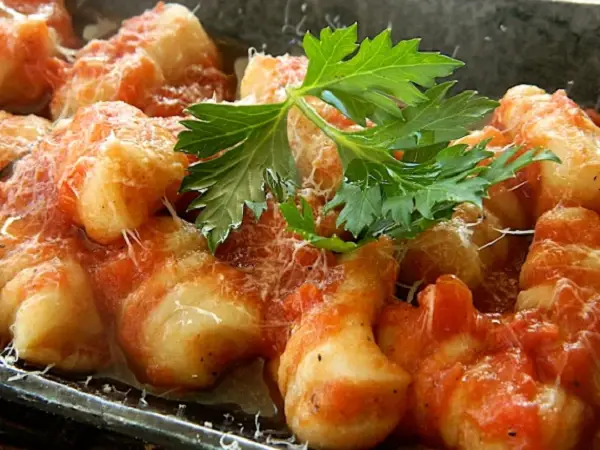 Ingredients for the gnocchi
850 gr (2 pounds) of starchy potatoes (russets or desiree)

1 egg yolk

Pinch of salt

3/4-1 cup of plain flour
Ingredients for the sauce
3 tablespoons of extra-virgin olive oil

1 garlic clove, finely chopped

1 small handful of parsley stalks, finely chopped

A couple of pinches of salt

1/4 cup of white wine

1 tin of whole tomatoes, crushed with a fork

Grated Parmigiano, freshly ground black pepper and parsley leaves to serve
How to
Put the potatoes, in their skin, in a large pot of salted, cold water. Bring to the boil over high heat and cook for 40-50 minutes or until cooked through. Drain well, then peel the potatoes, using a pairing knife if necessary as they will be very hot.
Pass the potatoes through a ricer (or use a potato masher), and allow to cool for 5-10 minutes.
Add the egg yolk and a small pinch of salt.
Start adding the flour, a little a the time. Depending on your potatoes and the type of flour you use, you may need to use a little more or a little less than indicated. You want a soft dough, that is pliable and not tacky. I normally end up using 3/4 and use the rest for dusting while I'm shaping the gnocchi.
Don't be tempted to add to much flour though, or your gnocchi will be heavy.
Cut the dough into 4-5 pieces, roll them out onto a surface dusted with flour and shape them into logs. Cut each log into 2-3 cm pieces.
You can leave them as that or roll them onto the tines of a floured fork, gently but like you mean it. As the gnocchi curl into the fork, the tine pattern will be embossed onto to them. Later, when coated in sauce, those very ridges will trap it in, for the joy of your palate.
Once you have rolled all your gnocchi, dust them with flour and set aside.

To make the sauce, heat up the oil in a large frying pan, quickly sauté the garlic and parsley stalks for 1-2 minutes. Pour in the wine and cook over high heat for 1-2 minutes or until the alcohol has evaporated. Add the crushed tomatoes, a pinch of salt and cook, bring to a simmer and then turn the heat to medium low and cook for 15-20 minutes.

Bring a large pot of salted water to the boil.
Boil your gnocchi in batches.
As they are cooked, they will float to the surface. Fish them out with a slotted spoon and drop them straight into the tomato sauce pot. Repeat until all your gnocchi are cooked. Saute' the gnocchi in the sauce for 1 minute to allow the flavor to mingle.
Dust with parmigiano, top with a few parsley leaves and serve hot.