Saint Anthony Prayer – Lost and Found
Saint Anthony Prayer
Lost and Found
*
Remember the Saint Anthony prayer? Do you or the kids still say it today?
Wow… I recall my Mom, Grandmom, Aunts and friends all saying the same thing when something was lost. "Good Saint Anthony look around, Something's Lost and Must be Found. And….. surprisingly enough more often than not we found whatever it was that we were looking for. 


Everybody swore by that prayer. I remember loosing keys, photos, etc. Even my car when I parked it in the airport parking garage before a trip to Italy and forgot where I parked it upon return. That took a couple hours to find but after praying to Saint Anthony we found it. No kidding. That's what we did. He's a good guy, Saint Anthony.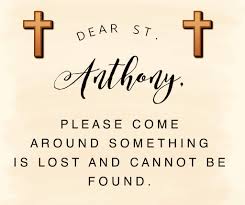 Saint Anthony is especially invoked and venerated all over the world as the patron saint for the recovery of lost items and is credited with many miracles involving lost people, lost things and even lost spiritual goods.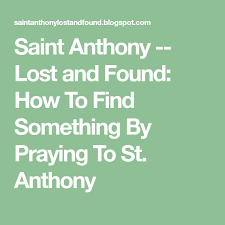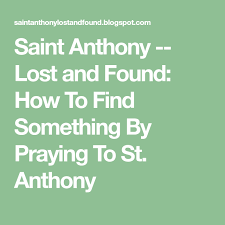 Anthony of Padua was a Portuguese Catholic priest and friar of the Franciscan Order. He was born and raised by a wealthy family in Lisbon, Portugal, and died in Padua, Italy. Noted by his contemporaries for his powerful preaching, expert knowledge of scripture, and undying love and devotion to the poor and the sick, he was one of the most quickly canonized saints in church history. He was proclaimed a Doctor of the Church on 16 January 1946. He is also the patron saint of lost things.


Watch the video below and Listen as Frank affectionately reminisces about Growing up With the Saint Anthony prayer when someone in his family had lost something.
After watching the video below about Saint Anthony you may also like the following:
"Growing Up Italian" featuring Yogi and others… 
or The History of Saint Joseph's Day (Video) by clicking here
where we forever Celebrate Life, Love and the Italian Experience.

Then join us on the web at
EverybodyLovesItalian.com