Pumpkin-risotto-recipe-from-Vincenzos-plate
umpkin-risotto-recipe-from-Vincenzos-plate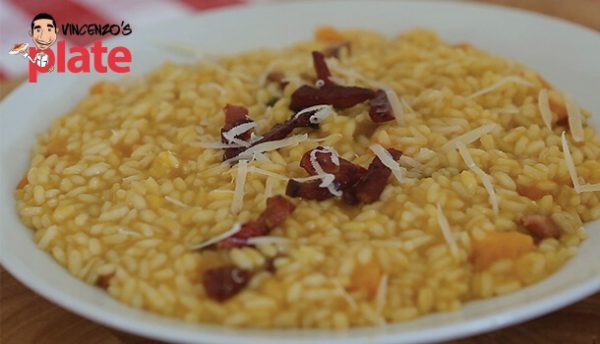 This Pumpkin Risotto is creamy, light and with a scrumptious punch of pancetta, it's a whole new take on the traditional version. Vegetarian? Leave out the pancetta and this recipe is still guaranteed to be FULL of flavour.
Are you looking for a pumpkin recipe that will blow your mind? Here it is the most delicious pumpkin risotto recipe ever.

INGREDIENTS:
1kilo (2.20 of lb) pumpkin (cut into small cubes)

750 Arborio rice (3.85  cup US)

250g (8oz) Pancetta

EVOO

Fresh sage leaves

Fresh rosemary leaves

½ onion (chopped into small pieces)

Parmesan cheese

3L (12 cups) fresh vegetable stock (STOCK: Onion, carrot, celery)
UTENSILS:
1 x large non-stick saucepan
VINCENZO'S PLATE TIP: This is one recipe you can't walk away from! It is really important to stay next to the pan and stir it as much as you can – slowly – so that the stock helps the rice to cook through and none of it stays hard.
COOKING METHOD:
After you have cut the pancetta into thin, short strips, heat up a fry pan with EVOO and add them in. Let this cook on a medium heat for around ten minutes or until they begin to caramelize and become crispy.

Heat up another fry pan and add EVOO and a couple of small branches of rosemary. When the aroma becomes really strong, remove the rosemary and add the onion and sage leaves.

Let this simmer on a medium heat until it begins to brown.

Add the pumpkin to the pan and mix it around with the onion for around 2-3 minutes. Then, using a ladle, spoon 2 – 4 scoops of stock and mix well.

Let this simmer for 10-15 minutes, or until the pumpkin becomes nice and mushy.

Squash the pumpkin down a little more using a wooden spoon then grate some fresh parmesan cheese over the top and mix again.

Once this is ready, add the rice and stir it through. Then, begin to ladle the stock in and mix simultaneously.

As the liquid disappears, you need to continue to add stock and then stir it through. This process will take around 25 minutes in total.

At this point, chop up the pancetta into smaller pieces then scoop up a small amount of the pumpkin risotto and taste it – if it's nice and soft, the pumpkin risotto is ready and you can add around half of the pancetta and stir it through.

Now switch off the heat and add a few pieces of butter, mixing them through as they quickly melt thanks to the heat which is still in the pan.

Remove the pan from the stove and serve.
HOW TO SERVE:
Spoon a generous portion of the pumpkin risotto in to a plate, sprinkle some additional pancetta cubes on top along with freshly grated parmesan cheese (as usual, as much or as little as you like).
E ora si mangia, Vincenzo's Plate…Enjoy!