Gnocchi Pasta with Lemon, Spinach, and Burrata Recipe
Gnocchi Pasta with Lemon, Spinach, and Burrata Recipe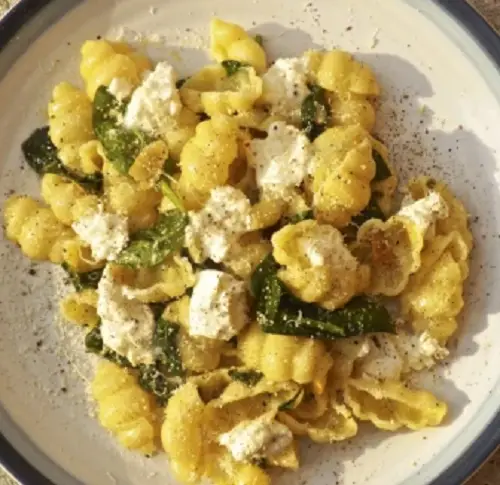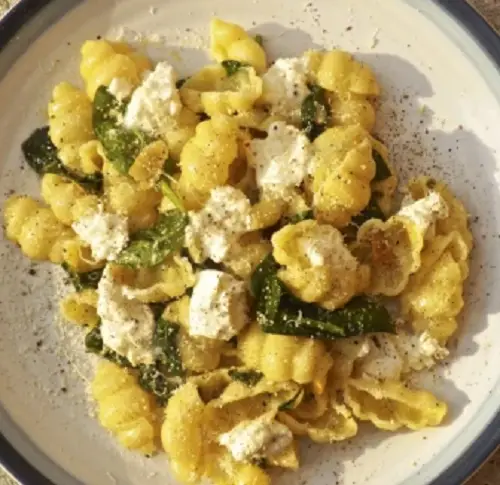 Ingredients
yield: 6 servings
1 lb gnocchi pasta

⅓ cup extra virgin olive oil

2 tbsp butter

2 cloves garlic, minced or grated

juice and zest of 1 Meyer lemon

1 pkg (6 oz) fresh baby spinach

¾ cup slivered almonds

grated nutmeg, to taste

1 lb. burrata cheese, sliced and cut into 1 inch cubes

grated Pecorino Romano cheese

freshly cracked black pepper
Directions
Place almonds in a small skillet over med-high heat and toast until lightly browned.  Remove from heat and set aside.

Bring a large pot of salted water to boil and cook gnocchi per package directions or to taste.

When pasta is approximately 4 minutes before being al dente, heat a large skillet over medium heat. Add butter and olive oil.

Add the garlic to the hot oil/butter mixture and sauté until soft, about 1 minute. Do not allow to brown.

Add the lemon juice and zest to the skillet and stir to combine. Keep hot until pasta is ready. If it reduces too much, replenish with pasta water.

Drain the pasta and put it into a large bowl.

Add the spinach, in thirds, to the gnocchi and mix well. Continue until all the spinach has been added to the bowl of gnocchi. (Adding it in batches will help to prevent clumping.)

Add the almonds and a dash of nutmeg. Mix well.

Add the hot butter/oil/lemon mixture to the pasta and toss, wilting the spinach as you do.

Work quickly and once the spinach is lightly wilted, apportion 6 servings.

Place an equal amount of burrata on top of each serving.

Finish each serving with a sprinkle of Pecorino Romano cheese and freshly cracked black pepper, to taste.

Serve immediately.