Osso Buco Recipe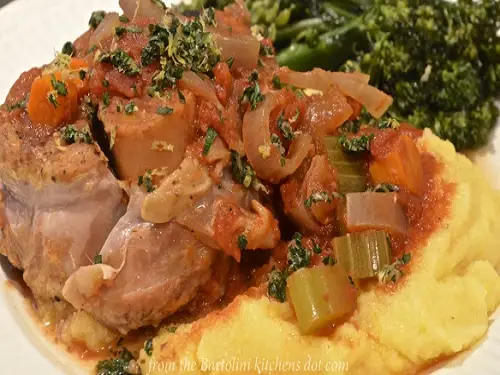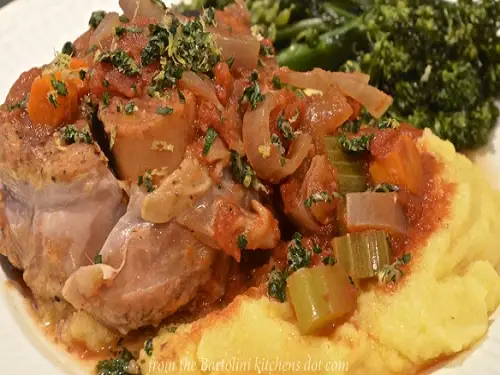 Ingredients
4 veal shanks (See Notes)

salt and pepper

flour

olive oil

1 large onion sliced

1 carrot, chopped

1 celery stalk, chopped

2 cloves garlic, sliced

2 tbsp tomato paste

1 bay leaf

1/2 cup dry white wine (See Notes)

 1/2 cup veal stock – chicken may be substituted

1 large can (28 oz, 794 g) whole tomatoes, torn/crushed by hand
for the Gremolata
2 anchovy fillets, finely chopped — anchovy paste may be substituted

1 garlic clove, minced

3 tbsp fresh parsley, chopped

zest of 1 lemon
Directions
Season the shanks with salt & pepper on both sides. Begin to heat some oil in a frying pan over medium heat.

Place about 1/3 cup of flour into a plastic bag, followed by 2 of the shanks. Carefully shake to coat the shanks with flour. Place the shanks in the now hot oil and repeat with the remaining 2 flanks.

Cook the shanks until both sides are well-browned, – about 7 or 8 minutes total. Remove and reserve.

Meanwhile, add the onions, garlic, carrots, celery, tomatoes, tomato paste, and bay leaf to the slow cooker. Season liberally with salt and pepper. Stir until combined.

Use the white wine to deglaze the frying pan and pour the liquid into the slow cooker when finished.

Add the shanks to the slow cooker. Be sure to include any of the juices that may have collected on the plate.

Add enough stock so that the sauce comes halfway up the sides of the shanks.

Set the slow cooker to  "LOW" and cook for 8 hours. To speed up the cooking time, for every hour cooked on "HIGH" reduce the cooking time by 2 hours.

About every hour, baste the top of the shanks to keep them moist. (See Notes)

Make the gremolata towards the end of the cooking process:

In a small bowl, combine the anchovies, garlic, parsley, and zest. Stir until fully combined.

Carefully remove the shanks and serve immediately with sauce and garnished with a sprinkling of gremolata.
Notes
If using the oven:
Preheat the oven to 350˚ F  (175˚ C).

Increase the amount of liquids use 2/3 cups dry white wine and 3/4 cups stock.

Cook for 1½ to 2 hours.  Meat should be fork tender and just about falling off the bone. Let it go too long and it will fall of the bone, ruining your presentation.
Although you can get shanks as thin as an inch, 2 inch thick shanks were used here. Cooking times may vary if you use shanks that vary in thickness.
Ask your butcher to tie the shanks to prevent them from falling apart during the braise. Be sure to remove the string before serving.
Attempting to turn the shanks over while braising is very problematic. They may, in fact, fall apart during the process. Best to leave them as-is and baste them periodically throughout the braise. If braising in the oven, baste the shanks every 30 minutes or so, If using a slow-cooker, baste every hour or so. Remember, the fewer times you uncover a slow cooker, the better.