Spinach and Scallop Salad
Spinach and Scallop Salad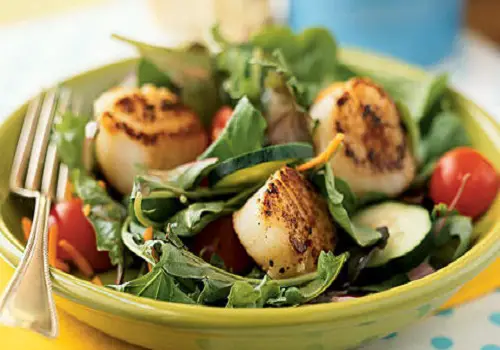 Ingredients: 
8 scallops
11 oz (300 grams) spinach leaves, tough stalks removed8 cherry tomatoes, halved1 shallot, chopped
1 fresh flat-leaf parsley sprig, chopped6 tablespoons extra virgin olive oil
3 and 1/2 fl oz (100 ml) white wine
1 lemon
2 tablespoons red wine vinegar
Salt and pepper 
Directions:
Holding the shell flat side up, open each scallop by inserting a strong knife between the shells and cutting through the upper muscle.Separate the shells and slide the blade under the scallop to cut the lower muscle.
Remove the white flesh and throw away the remainder.
Heat 1 tablespoon of the olive oil in a small saucepan.
 Add the scallops. Pour in the wine and cook until it has evaporated.
Season with salt and pepper and remove from the heat.
Place the spinach and tomatoes in a salad bowl.
Peel the lemon, remove all traces of pith and dice the flesh.
 Add to the salad.
Mix together the vinegar, shallot, parsley, and remaining olive oil in a bowl and season with salt and pepper.
Pour the dressing over the salad and toss.
Add the scallops and serve. Serves 4.