Gnocchi Quattro Formaggi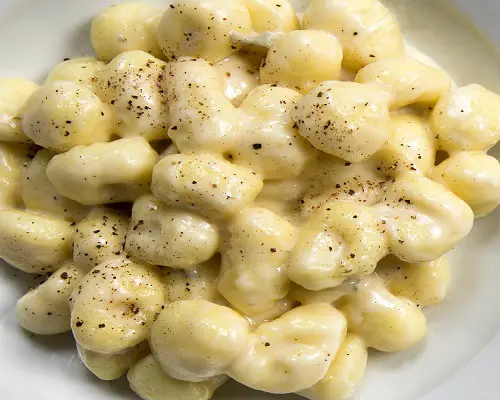 Ingredients
1 16 oz. Package of fresh or frozen gnocchi
2 tbsp extra virgin olive oil
1/2 medium onion, grated
2 garlic cloves, grated
1 tbsp flour
2 cups cream or milk, heated
1/2 cup dry white wine
1/2 cup Parmigiano Reggiano (freshly grated)
1/2 cup Asiago cheese (freshly grated)
1/2 cup shredded Mozzarella
1/2 cup shredded Fontina cheese
Directions:
Preheat the oven to 425 degrees.
In a large oven-safe saucepan, heat up the extra virgin olive oil over medium to high heat. With a micro plane or grater, grate 1/2 of a medium onion into the oil. Turn the heat down and sauté the onion for about 2 minutes. Add a dash of sea salt and freshly ground black pepper. Grate in the garlic cloves and sauté for another minute. Next sprinkle in the flour and
incorporate well with the oil and onion with a whisk or wooden spoon. Let the flour cook for about 2-3 minutes before adding the warm milk or cream. Use 1% or 2% milk if you want to lighten it up otherwise go all the way with whole milk or cream. Whisk the milk into the flour over medium heat until it thickens slightly and all the flour bits are dissolved. Continue whisking and add the white wine. Simmer the mixture for about 10 minutes, stirring often.
In a large pot, bring salted water to a boil. Add the gnocchi, which will take no more than 3 minutes to cook. You will know the gnocchi are done when they float to the top of the pot. Drain well and set aside when done.