Saint Joseph's Day Cod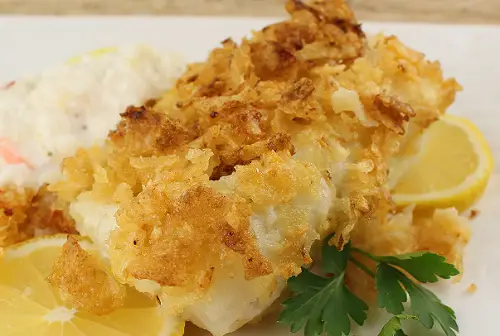 Ingredients
1 Filet of cod (serves two or one large serving)

Extra virgin olive oil

Sea salt

Freshly ground black pepper

Plain or Italian bread crumbs

1 lemon

3 tbsp honey
Directions:
Drizzle the uncooked cod with extra virgin olive oil and season with sea salt and freshly ground black pepper.

Dredge the cod fish into the bread crumbs until lightly coated.

In a large pan, heat a small drizzle of extra virgin olive oil over medium to high heat. Place the breaded cod into the pan gently. Allow to cook for about 3 minutes before turning the fish over. You need the fish to cook through, so if the heat is so high that the bread crumbs are burning, then turn it down.

Turn the fish and cook on the other side another 3-4 minutes. You will know when the cod starts to split at the top and you see a solid white color.

In a small bowl, mix 3 tbsp of honey with 1 tbsp of freshly squeezed lemon juice. This should be sweet with a slight tang. If the lemon is too overpowering, then add a bit more honey.

6. Serve the cod with a drizzle of the honey and lemon mixture and garnish with a wedge of lemon.