Saint Joseph's Day Recipe – Pasta Milanese
Saint Joseph's Day Recipe – Pasta Milanese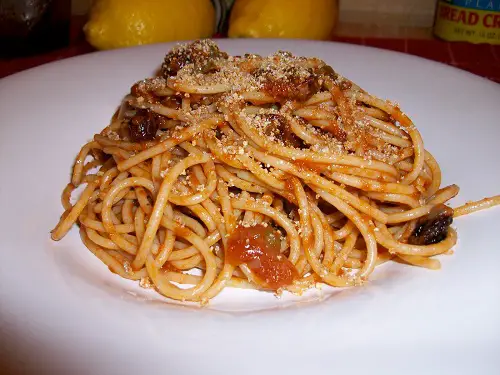 Ingredients
   1/2 bulb fennel, diced

    1 onion, diced

    3 tbsp. chopped fresh basil

    1/2 teaspoon oregano

    1 teaspoon crushed red pepper flakes

    1/4 cup extra virgin olive oil

    2 oz. anchovy fillets

    1-17.6 oz. package diced tomatoes

    1-14.5 oz. can Cuoco

    28 oz. can of San Marzano tomatoes

    1/4 cup Cento tomato paste

    1 pound bucatini
    St. Joseph's Sawdust Mangia
    3 Tablespoons  grated parmesan

    2 tablespoons pine nuts, toasted (optional)

    1/4 teaspoon salt

    1/2 cup Sicilian breading

    3 Tablespoons extra virgin olive oil
   Directions
   St. Joseph's Sawdust Mangia
In a food processor, add all of the ingredients and pulse 4-5 times until mixture is well combined.

    Warm the bread-crumb mixture in a small pan over low heat.
Pasta Milanese
 In a large saucepan, heat olive oil, add fennel and onion, saute for 5 minutes.

    Add the garlic, cook briefly, then stir in the anchovies and cook for a couple of minutes.

    Stir in the diced tomatoes and the can of San Marzano tomatoes, (crush them when in the pan).

    Add Cuoco, tomato paste, ground fennel, oregano, and red pepper flakes.

    Simmer sauce for 1 hour, stirring occasionally. Stir in the basil at the end, just before serving

    In a large pot, boil the bucatini to al dente (10-11 minutes, or until it is just firm to the tooth) reserve 1 cup of pasta water, then drain.

    Combine some of the sauce with the pasta until you get the desired consistency. Thin with the pasta water if necessary.

    Serve the pasta with a dusting of St. Joseph's sawdust on top  Mangia!