Graffe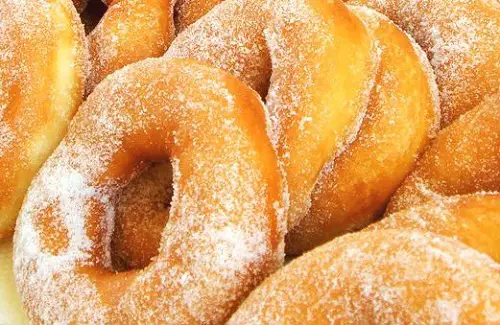 Graffe are sweet and soft fried donuts made with flour, boiled potatoes, eggs and butter that are prepared during Carnival. Just like for migliaccio, Naples is their home. As a matter of fact, they can be found all year round and they are eaten especially at coffee bars together with a good hot coffee.

Ingredients
for 20 graffe:
Potatoes (floury quality) 300 gr

flour 500g

3 eggs

butter 100g

sugar 60g

yeast 25 gr

120 ml of milk

olive oil (for frying)

salt.
PREPARATION
Soften the butter at room temperature.

Boil the potatoes in boiling water for about 40 minutes and in the meantime heat the milk together with 30 grams of sugar.

Transfer the milk in a bowl and add the yeast dissolving gently. Gradually add the flour, being careful not to form lumps.

As soon as the dough is smooth, cover the bowl and let to leaven for about 2 hours.

Meanwhile, peel and mash the potatoes with a potato masher then place them in a container; add another 30 grams of sugar, a pinch of salt and eggs.

Add to compound the yeast dough and knead thoroughly. Add the softened butter and continue to knead then, let to leaven again for 2 hours.

After this time, put the dough on a work surface and stretch it with your hands to create a long sausage. Cut the dough into pieces and joint the ends to create donuts.

Place the donuts on a cloth dusted with flour and let to leaven for 1 hour.

Dip the graffe in plenty of hot olive oil and spin often so that they inflate evenly.

As soon as they are golden, drain them and place them on a paper towel.

Sprinkle with plenty of sugar and serve warm.