Stuffed Escarole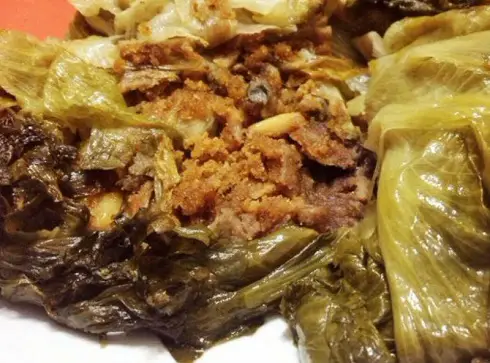 Ingredients for 6-8 people:
8 heads of escarole
2 tablespoons of capers
2 anchovies
1 clove of garlic
1 tablespoon of pine nuts
breadcrumbs 100g
Gaeta black olives 100 gr
1 tablespoon of raisins
parsley
extra virgin olive oil
salt.
PREPARATION
Wash the escarole leaving them whole and eliminating only the tough outer leaves then boil for a few minutes in boiling salted water; drain lightly taking care not to break them and put them to drain until they have cooled.
In a pan fry the garlic together with 4 tablespoons of oil then, when it is browned, remove it and add the chopped olives, anchovies and capers without salt, raisins previously soaked in warm water, the pine nuts and chopped parsley.
Mix well and, with this mixture fill gently the inside of the heads of escarole. Wire the clumps with kitchen string and arrange in a baking pan greased with oil.
Sprinkle with breadcrumbs and drizzle with a little olive oil then place in oven at 180 ° C for 20 minutes.
Serve hot.