Green Pea Penne Pasta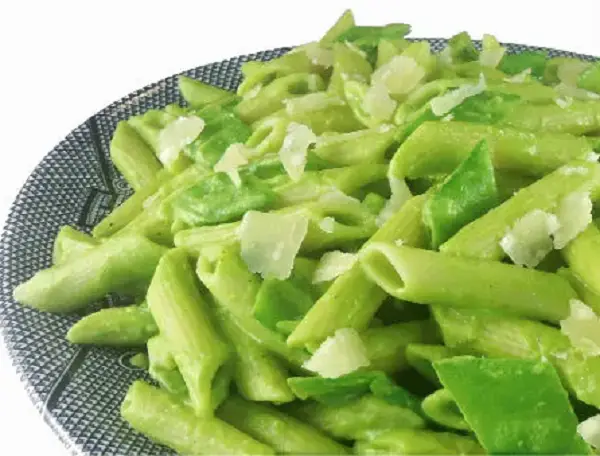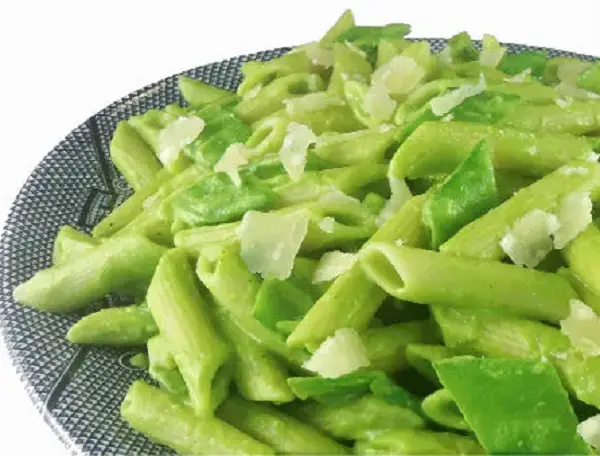 Ingredients:
Yield: 4 generous servings.
1/4 pound sugar snap peas, trimmed

2 cups frozen peas (10-oz.)

1-1/2 cups water, divided use

1-1/2 teaspoons grated fresh lemon zest

2 medium garlic cloves, minced and mashed to a paste with 1/2 teaspoon salt

1/4 cup extra virgin olive oil

1 pound penne

1/4 cup grated Parmigiana Reggiano
Directions:
1) Cut sugar snaps diagonally into thirds.
2) Bring frozen peas and 1/2 cup water to a boil in a small saucepan. Reduce heat and simmer, covered, until peas are tender, about 3 minutes. Transfer peas and cooking liquid to a blender. Add zest, garlic paste and oil. Puree.
3) Cook penne in a 6 to 8-quart pot of well-salted boiling water until al dente. Add sugar snap peas and boil for an additional 30 seconds, reserving 1 cup of pasta water, drain penne in a colander.
4) Add cheese and 1/3 cup reserved pasta water to pea sauce in blender jar. Puree until very smooth.
5) Toss penne and sugar snap peas in large bowl. Add pea puree and toss until penne is well-coated. Thin sauce, as necessary, with reserved pasta water. Season to taste with salt and pepper. Pass additional cheese at table if desired.