Shells with Cheese, Broccoli and Zucchini
Shells with Cheese, Broccoli and Zucchini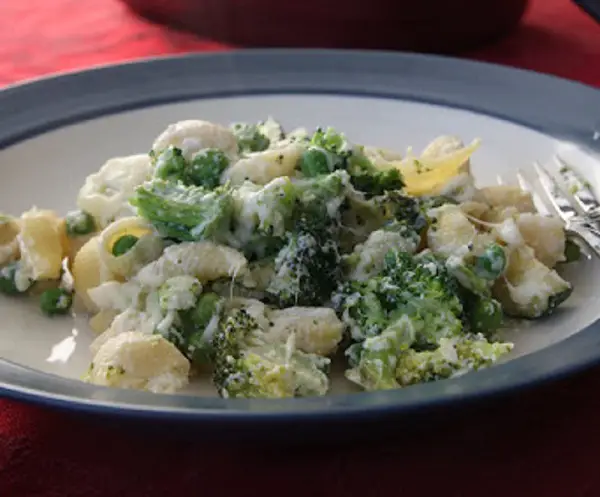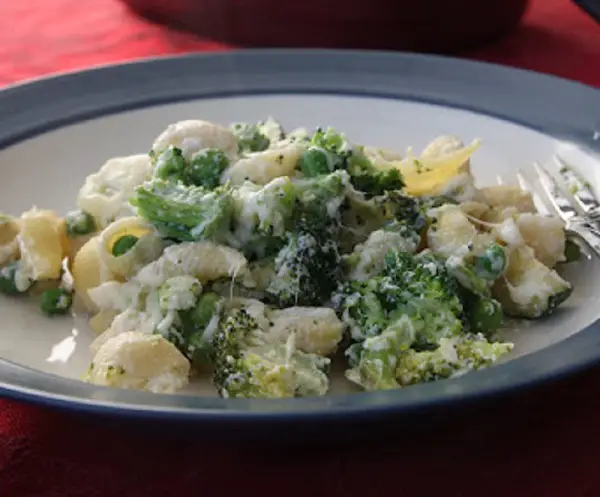 Ingredients
    16 ounces, weight Pasta Shells (medium) Or Other Short Pasta

    ½ pounds Broccoli, Cut Into Small Florets

    ½ pounds Zucchini (about 1 Medium Zucchini) Diced

    ½ cups Frozen Peas

    3 whole Green Onions Sliced (white & Light Green Parts)

    3 cloves Garlic, Minced

    4 Tablespoons Butter

    2 Tablespoons Olive Oil

    20 ounces, weight Ricotta Cheese

    1 cup shredded mozzarella

    ½ teaspoons Salt

    2 whole Eggs

    1-½ cup Parmesan Cheese

    Black Pepper, Freshly Ground

    Extra Olive Oil For Drizzling
Directions
Preheat oven to 350 degrees.

Cook pasta until extremely al dente—with still quite a bit of bite.

Melt butter with the olive oil over medium-low to medium heat, then add in the garlic. Sprinkle in a little salt.

Add the broccoli and cook for one minute, then add the zucchini and cook for one or two more minutes. Add the frozen peas, still together then turn off the heat. Set aside.

In a separate bowl, mix the ricotta, eggs, salt, and pepper until well combined.
Assembly:
Butter a 9×13-inch baking dish. Add half the pasta, then spread 1/3 cup of the ricotta mixture over the surface. Sprinkle 1/3 of the Parmesan over the ricotta, then ½ of the vegetables. Repeat with the rest of the pasta, the rest of the ricotta, and another 1/3 of the Parmesan. End with the rest of the vegetables and the rest of the Parmesan. Top with mozzarella

Drizzle with a couple of tablespoons olive oil, then bake for 25 minutes on 350 degrees or until nice and hot.

Serve with extra Parmesan, crusty  bread, and chilled white wine. Yummy!