Grilled Pork Sausages with Figs
Grilled Pork Sausages with Figs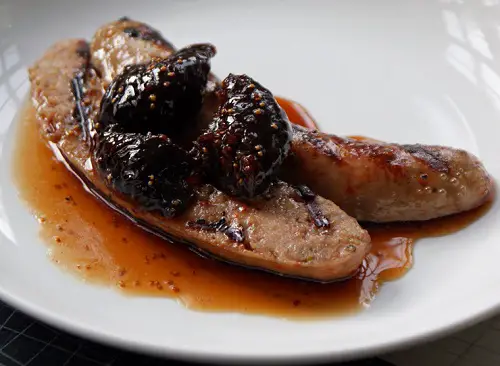 Ingredients:
2 cups red wine vinegar

1 and 1/2 cups sugar

1 and 1/2 cups (packed) dried black Mission figs (about 11 ounces)

1 cinnamon stick

12 whole cloves

2 teaspoons water

1 teaspoon cornstarch

5 sweet Italian link pork sausages (about 1 pound)
Directions:
Stir first 5 ingredients in heavy medium saucepan.

Let stand 30 minutes.

Stir over low heat until sugar dissolves.

Bring to boil; reduce heat to medium-low and simmer until figs are softened and vinegar is slightly syrupy, about 45 minutes.

Mix water and cornstarch in small bowl; stir into fig mixture.

Boil and stir to thicken slightly, about 1 minute.

Let stand 1 hour.

Prepare barbecue (medium heat).

Grill sausages until browned and cooked through, turning frequently, about 15 minutes.

Remove from grill.

Holding sausage with tongs, cut in half lengthwise.

Repeat with remaining sausages.

Grill sausages, cut side down, until browned, about 3 minutes.

Place 1 sausage half on each plate.

Divide figs among plates, about 3 per serving.

Drizzle sauce over and serve.