Salmon Salad with Tomatoes and Chickpeas
Salmon Salad with Tomatoes and Chickpeas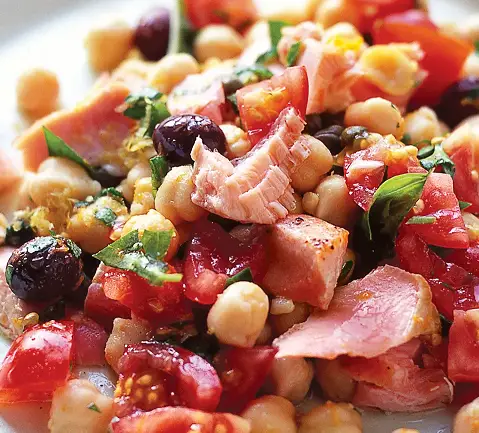 Ingredients:
Serves 6
6 tablespoons extra virgin olive oil, divided

Six (5 to 6-ounce) salmon fillets (about 2 pounds)

2 cups chickpeas from two (15-ounce) cans, drained, rinsed

1 and 1/2 cups chopped tomatoes

1/4 cup (scant) small black olives

2 tablespoons chopped fresh Italian parsley

2 tablespoons fresh orange juice

1 tablespoon fresh lemon juice

1 tablespoon salt-packed capers, rinsed, or drained capers in brine

1 tablespoon grated orange peel

1 teaspoon grated lemon peel

2 tablespoons fresh basil leaves, torn if large
Directions:
Heat 1 tablespoon olive oil in each of 2 heavy large skillets.
Sprinkle salmon with salt and pepper.
Add 3 fillets to each skillet and cook until almost cooked through, about 3 minutes per side.
Cool slightly.
Heat remaining 4 tablespoons olive oil in large skillet over medium-high heat.
Add chickpeas and all remaining ingredients except basil.
Stir until warm.
Season with salt and pepper.
Divide chickpea mixture among 6 plates.
Tear salmon into 1 to 1 and 1/2-inch pieces; scatter over chickpeas.
Garnish with basil leaves and serve.