Grilled Steaks with Marsala and Shallot Pan Sauce
Grilled Steaks with Marsala and Shallot Pan Sauce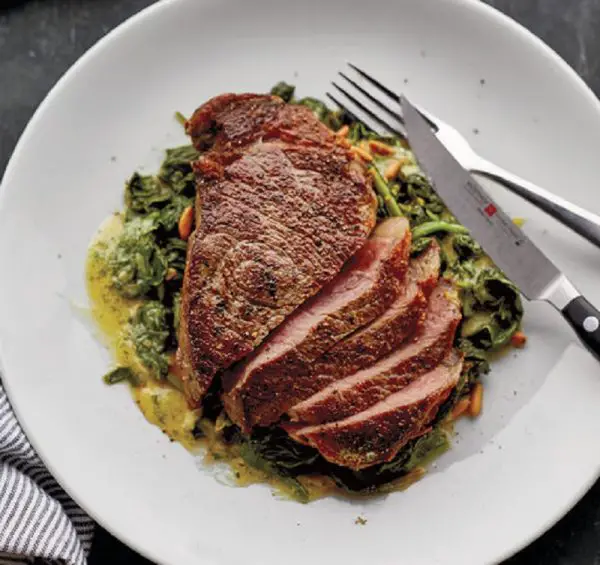 Ingredients
Makes 4 servings
1 (2-inch thick; about 2 ½ pounds) steak, such as New York, rib-eye, or tenderloin

Sea salt and freshly ground black pepper

Vegetable oil, for brushing grill grates

1 tablespoon extra-virgin olive oil

1 tablespoon unsalted butter

2 large shallots, thinly sliced

1 cup Marsala wine

1 cup beef broth

6 sprigs fresh thyme

1 to 2 tablespoons unsalted butter, cut into small dice (optional)

3 tablespoons chopped fresh flat-leaf parsley leaves, for garnish
Procedure
Remove steaks from refrigerator and bring to room temperature, 30 minutes prior to cooking. Preheat a grill or grill pan over medium-high heat. Preheat oven to 375°F with a rack in the center. Set a heatproof rack over a rimmed baking sheet and place next to stove top or grill. Season steak generously on all sides with salt and pepper.
Using a silicone brush, lightly coat grill grates with vegetable oil. Place steak on the grill and sear for 3 to 4 minutes per side, rotating the steak 90 degrees halfway through cooking on each side to create crossed grill marks. Using tongs, transfer steak to the heatproof rack and place in the oven to finish cooking to the desired degree of done-ness. Transfer steak to a cutting board with a well and loosely with foil; rest for 10 minutes before carving.
To a medium saucepan set over medium heat, add olive oil and butter. When butter melts, add shallots and cook until softened, 4 to 5 minutes; season with salt and pepper. Add wine, stock, and thyme and continue cooking until liquid is reduced by half, 8 to 10 minutes; discard thyme sprigs. Taste and adjust seasoning with salt and pepper. Whisk in butter and keep sauce warm over low heat.
To serve: Using a sharp slicing knife, cut steak into thick pieces across the grain. Place slices on a serving platter, garnish with parsley and serve immediately. Pass pan sauce in a gravy boat at the table.
https://www.surlatable.com/