Halibut Picatta with Artichokes on Farro
Halibut Picatta with Artichokes on Farro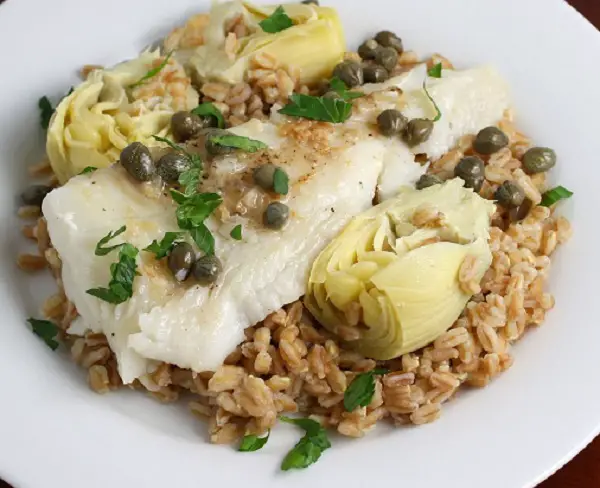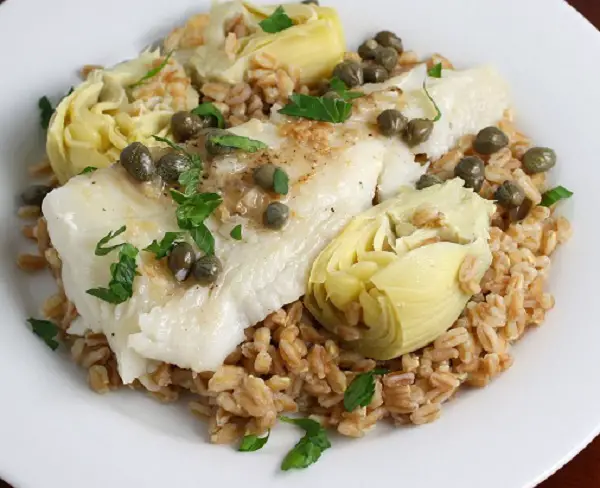 Ingredients
Makes 2 servings
1/2 cup farro, rinsed

1 cup chicken stock

3 artichoke hearts (halved)

2 teaspoons olive oil

6-8 ounces halibut

Salt and pepper to taste

1/2 cup of dry white wine (can substitute chicken stock)

Juice of 1/2 a small lemon

1 tablespoon capers, drained

1 /2 tablespoon butter

1 tablespoons parsley, chopped
Directions
Bring the farro and chicken stock to a boil. Reduce to a simmer, cover and cook until the stock is absorbed, about 15-20 minutes.

 Drain any remaining stock and stir the artichoke hearts into the farro.

In a medium saute pan, heat the olive oil over medium heat.

 Season the halibut with salt and pepper.

Add the halibut and cook until lightly golden brown on both sides, about 3-5 minutes per side and set aside.

Add the white wine and lemon juice to the pan, deglaze and simmer to reduce the sauce for a few minutes.

Add the capers and butter and heat until the butter melts into the sauce.

Remove from heat and stir in the parsley.

Serve the halibut on a bed of farro with the artichoke hearts and top with the lemon and caper sauce.