Shrimp Puttanesca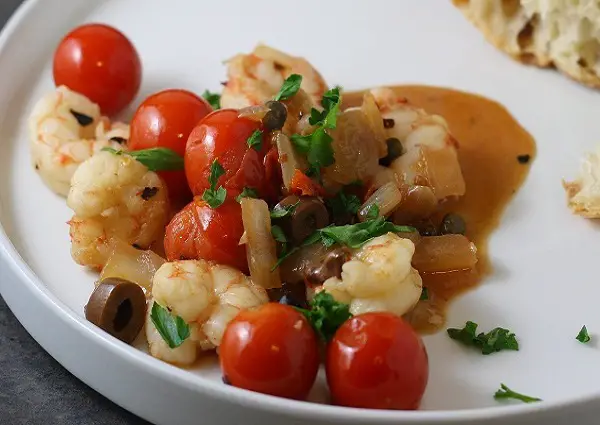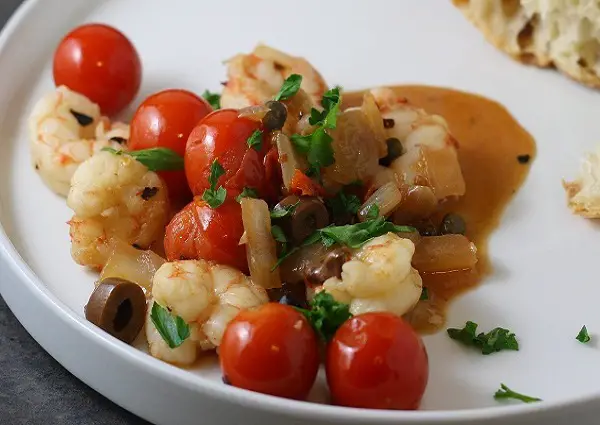 Ingredients
Makes 4 servings
2 tablespoons extra-virgin olive oil, divided

1 small onion, chopped

3 garlic cloves, minced

3 anchovy fillets, minced

1/2 teaspoon red pepper flakes, plus 1/2 teaspoon

2 cups of cherry tomatoes

1/3 cup roughly chopped kalamata olives

1/2 cup dry white wine (I used Arrogant Frog chardonnay)

2 teaspoons capers, rinsed

1 pound shrimp, peeled and deveined

Salt to taste

Parsley for garnish
Directions
Heat 1 tablespoon oil in a large skillet over medium heat.

Add onion and saute until it begins to soften, about 5 minutes.

Add the garlic, anchovies, and 1/2 teaspoon chili flakes and saute for a minute or until fragrant.

Add the tomatoes, olives, wine, and capers and cook, stirring until the tomatoes break down and the sauce thickens, about 20 minutes.

Taste for seasoning and adjust as needed.

In a separate skillet, heat the remaining 1 tablespoon of oil over medium-high heat.

Add the remaining 1/2 tablespoon of chili flakes.

Add the shrimp to the pan in a single layer and season with salt.

Cook until the shrimp is just cooked through, about 4 minutes.

Add the shrimp to the tomato sauce and stir to combine.

Serve garnished with parsley if desired and with a baguette to sop up the wonderful juices.