Spaghetti Squash with Sausage, Kale, and Sun-Dried Tomatoes
Spaghetti Squash with Sausage, Kale, and Sun-Dried Tomatoes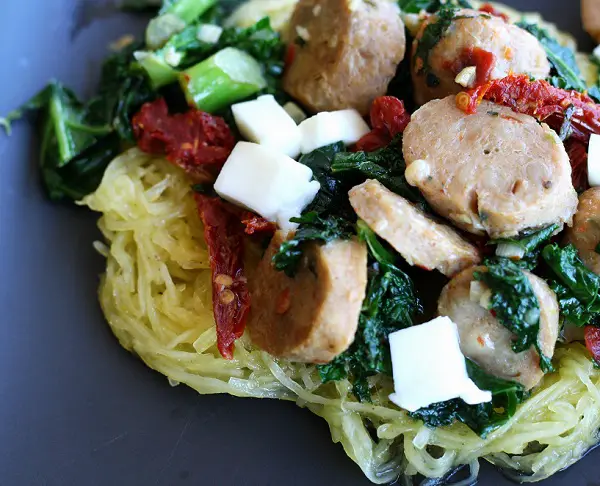 Ingredients
Makes 4 servings
1 small spaghetti squash (about 2 pounds)

2 tablespoons extra virgin olive oil, divided

Salt and pepper

4 cloves garlic, minced

12 ounces spicy Italian chicken

10 ounces chopped kale

1/2 cup low-sodium chicken broth

3 ounces julienned sun-dried tomatoes not in oil

1/4-1/2 teaspoon red pepper flakes, depending on your taste

1/4 cup grated Parmesan cheese

4 ounces fresh mozzarella, diced
Directions
Preheat the oven to 375 degrees and line a baking sheet with foil or parchment paper. Place the squash on the sheet, and roast for 45 minutes to 1 hour, or until a paring knife is easily inserted in the center of the squash.

Cut the squash in half lengthwise. Scoop out the seeds with a spoon. Scrape the sides of the squash using a fork to remove the spaghetti. Toss the squash with one tablespoon of olive oil. Season the squash with salt and pepper and set aside.

When the squash has about 30 minutes left to cook, heat the remaining olive oil in a large skillet. Add the sausage and garlic and cook, stirring often, until the sausage is cooked through, about 12 minutes. Remove the sausage from the pan with a slotted spoon

Add the kale and chicken broth to the pan and cover. Cook for about 5 minutes until the kale has wilted. Add the sausage back to the pan along with the tomatoes, red pepper flakes, and Parmesan cheese to the skillet, tossing to combine. Adjust the seasonings to taste.

Serve the sausage mixture on a bed of spaghetti squash, dotted with pieces of mozzarella cheese.