Handmade Egg Pasta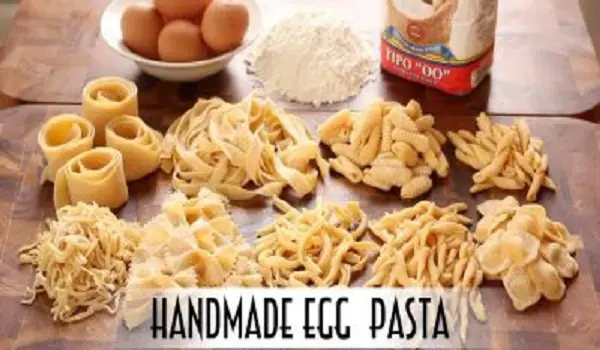 Here's a handmade egg pasta recipe and a video which shows how to shape it 9 ways.

Ingredients
500 grams  00 Flour (Italian) or All-Purpose Flour

5 Eggs (large, room temperature)
Mixing and Kneading the Egg Pasta Dough:
Weigh 500 grams of 00 Flour and place onto the wooden board or work surface.

Form a well in the center of the flour.

Crack the eggs (checking for shells) and add the eggs to the well in the flour.

Use a fork to whisk the eggs together.

Slowly incorporate a flour into the eggs and blend until a thick paste forms.

Scrape off the fork.

Use the Metal Bench Knife to scrape the flour into the paste and cut the mixture together until it starts to come together.

Firmly press the mixture together to begin breaking down the dry bits and incorporating them into the dough. Use the dough to pick up any stray pieces on the board.

Knead firmly to continue to incorporate all the dry bits into the dough and until the dough becomes cohesive. (The dough will be very firm at this stage)

Continue to knead for 10 to 12 minutes or until the dough is smooth and small blisters form on the surface. (The dough will be slightly less firm at this stage)

Wrap the dough in plastic wrap and let rest for 30 minutes before rolling or forming into the pasta shapes.