PUMPKIN ARANCINI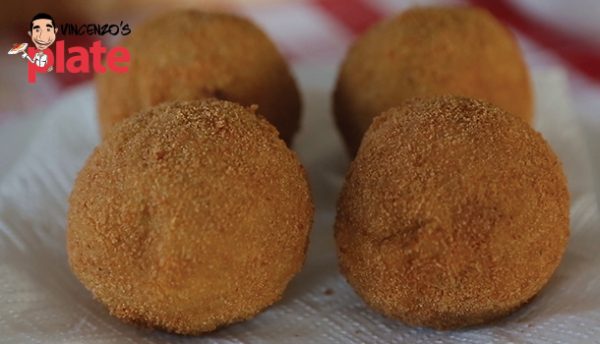 INGREDIENTS:
3 eggs, cracked into a bowl

Fresh breadcrumbs

Fresh block of provolone cheese, cut into cubes

Fresh mozzarella (or Fior di Latte) NOT store bought shredded

Bowl of water

Vegetable oil (for frying)
UTENSILS:
1 x medium size non-stick frypan

Deep fryer or 1 x medium pot for frying

1 x whisk or fork

Flat plate

Paper toweling
METHOD:
Beat the eggs well in a bowl.

Moisten your hands with water and pick up a handful of risotto. Flatten it into the palm of one hand, curving it slightly.

Put some cheese into the centre, both provolone and mozzarella, pressing it down a little.

Moisten your hand again using the bowl of water and add more risotto on top, covering the cheese and make the mix into a ball.

Cup your hands around it making it into a ball and moving it around to make sure it is well rounded and that the ingredients in the middle are well covered.

Pour a generous amount of vegetable oil into a pot or deep fryer and put it on the stove at a medium heat.

Dip the pumpkin rice ball into the egg making sure it is really well coated before dropping it into the breadcrumbs and rolling it around to completely cover it again.

Place it on a flat plate with paper towelling at the bottom so the excess crumbs fall off.

Repeat 2-6 unti you have used up all of your leftover risotto.