Herb Crusted Veal Chops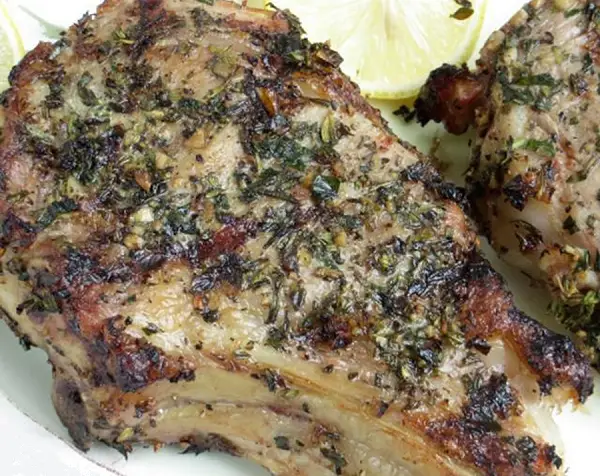 Ingredients
    1/4 cup fresh basil, finely chopped

    2 sage leaves, finely chopped

    2 tablespoon fresh parsley, chopped

    1 tablespoon fresh thyme, chopped

    2 teaspoons dijon mustard

    3 tablespoons unsalted butter, room temperature

    1/2 teaspoon sea salt

    1/2 teaspoon freshly ground pepper

    3 tablespoons breadcrumbs

    1/4 cup freshly grated parmesan cheese

    2 8-ounce veal loin chops (each about 1 inch thick)

    2 tablespoons olive oil
Directions
    Preheat oven to 450°F.

    Prepare a baking sheet lined with parchment paper.

    In a medium bowl mix basil, sage, parsley and thyme. Mix well using a fork then add in dijon mustard, butter, salt and pepper then continue mixing together. Now combine breadcrumbs and parmesan cheese.

    Pat veal chops dry with paper towels. Heat oil in heavy large ovenproof skillet over high heat.

    Add veal and saute each side for 1 minute. This will give the loin chop a nice crust on each side. Remove from heat.

    Take each veal loin chop and press herb mixture to coat each side. Roast for exactly 15 minutes for medium-rare.