Homemade Garlic Butter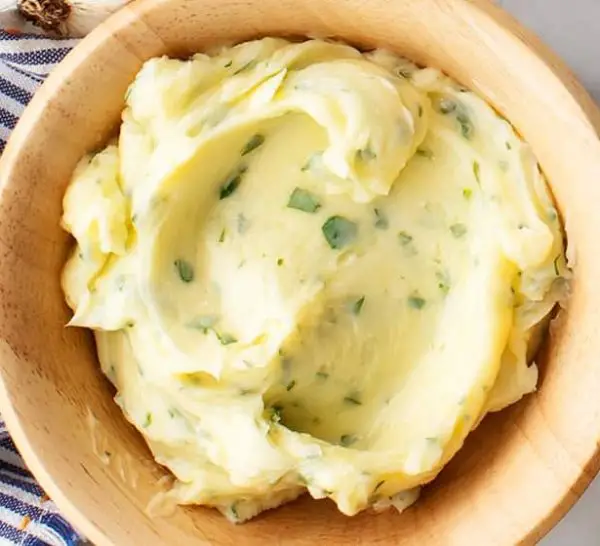 Ingredients
Yield

Makes about 1/3 cup
8

tablespoons

(1 stick) unsalted butter

3 to 4

cloves

garlic (Roasted)

4

sprigs

fresh parsley

1

teaspoon

kosher salt
Instructions
Place 1 stick unsalted butter in a small bowl and let sit at room temperature until softened. (If you want to speed things up, grate the butter on the large holes of a box grater first.)

Finely chop 3 to 4 garlic cloves until you have 1 tablespoon. Finely chop the leaves from 4 sprigs fresh parsley until you have 2 teaspoons. Add the garlic, parsley, and 1 teaspoon kosher salt to the butter. Smash and stir into the butter until combined.
To shape the garlic butter into a roll: If not using immediately, spoon the garlic butter lengthwise onto a sheet of plastic wrap a few inches longer than a stick of butter. Roll the garlic butter up tightly in the plastic wrap. Twist the plastic wrap at each end of the garlic butter (like how a Tootsie roll is wrapped). Holding a twisted end in each hand, roll the log along the work surface to tighten and shape the roll. If the plastic wrap is long enough, tie a knot at each end; otherwise, tie a piece of kitchen twine at each end. Refrigerate or freeze until ready to use (thaw overnight if frozen before using). To use, unwrap and cut crosswise into rounds of garlic butter.
Recipe Notes
Using salted butter: Salted butter can be substituted for the unsalted; just omit the kosher salt.
Storage: The garlic butter can be refrigerated in an airtight container for up to 5 days or frozen for up to 2 months. Let thaw overnight in the refrigerator before using.