Honeyed Fig Crostatas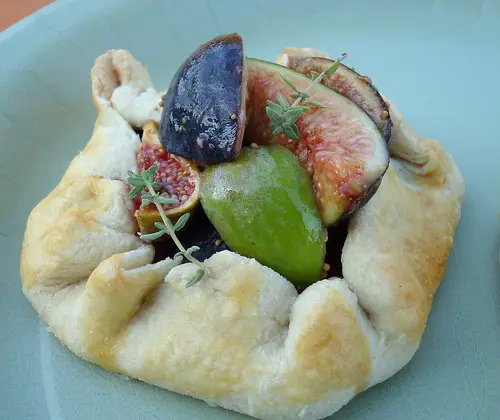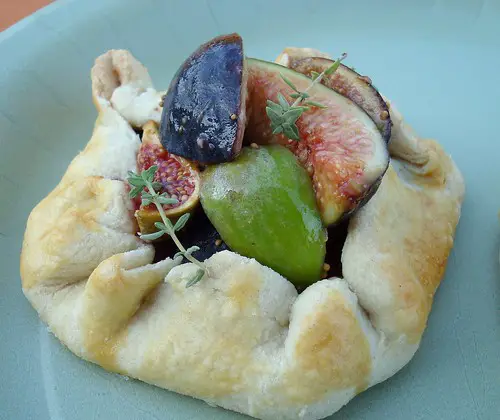 Ingredients
Makes 8 mini crostadas
2 1/2 cups all-purpose flour

1/4 cup plus 1 tablespoon sugar

Kosher salt

1 1/2 sticks cold unsalted butter, cut into 1/2-inch pieces

1/4 cup plus 3 tablespoons ice water

1 1/2 pounds fresh green and purple figs, each cut into wedges

5 teaspoons honey

1 teaspoon fresh lemon juice

1/4 teaspoon thyme leaves, plus small sprigs for garnish

1 egg beaten with 1 tablespoon of water
Directions
In a food processor, pulse the flour with the sugar and 1/2 teaspoon of salt. Add the butter and pulse until it is the size of peas. Add the water; pulse until the dough comes together. Pat the dough into a disk, wrap in plastic and refrigerate for 30 minutes.

On a lightly floured surface, roll out the dough 1/8 inch thick. Cut out eight 5-inch rounds, rerolling the scraps if necessary; transfer to a parchment paper–lined baking sheet and refrigerate for 30 minutes.

Preheat the oven to 375 degrees. In a bowl, toss two-thirds of the figs with 3 teaspoons of the honey, the lemon juice, thyme leaves and a pinch of salt. Arrange the figs on the dough rounds, leaving a 1/2-inch border all around. Fold the edges over the figs and brush the dough with the egg wash. Chill for 30 minutes.

Bake the crostatas for 35 minutes, rotating halfway through baking, until the crusts are golden. Let stand for 10 minutes.

Gently toss the remaining figs with the remaining 2 teaspoons of honey. Transfer the crostatas to plates, top with the figs and thyme sprigs and serve.