Pumpkin Cinnamon Rolls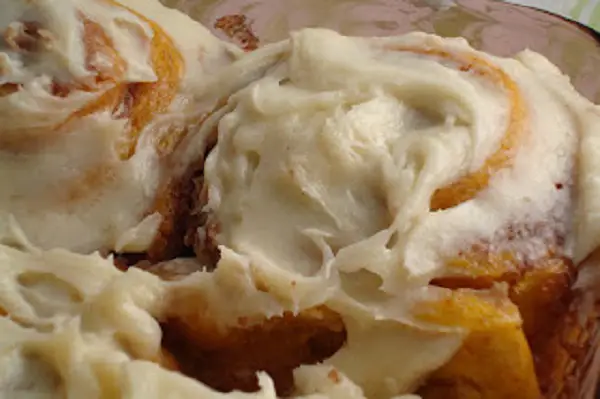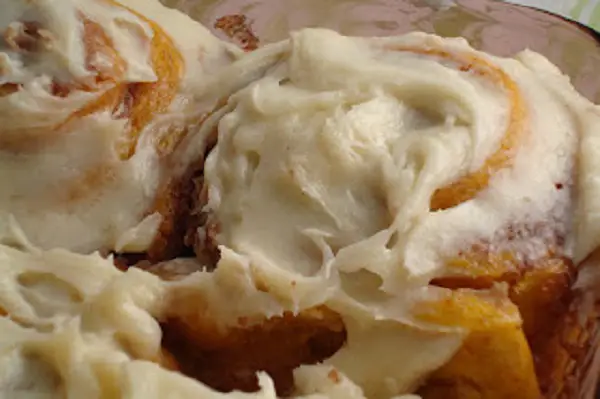 Ingredients
For the dough:
1 packet of active yeast

1/2 cup of warm water

1 egg

1 tsp vanilla

3/4 cup pumpkin puree

1/4 cup sugar

1/2 tsp course salt

1/2 tsp cinnamon

1/8 tsp nutmeg

3 cups all purpose flour
For the filling:
1/2 cup butter, softened

1/2 cup sugar

1 tsp honey

2 tsp cinnamon
For the frosting:
1/4 cup butter, softened

4 ounces cream cheese, softened

1 tsp vanilla

1 or 2 dashes cinnamon

1 cup powdered sugar, sifted
Directions
Mix yeast and warm water in a large bowl and allow to sit for 10 minutes.

 Add in the rest of the dough ingredients and thoroughly combine. Add a little more flour if it needs a more doughy consistency.

Turn dough out on a lightly floured surface and knead for 5 minutes, then allow to rest for 15 minutes.

Mix filling ingredients together in a small bowl until you have a sugar paste.

Roll dough out in a large rectangle to 1/4 inch thick then spread the sugar filling evenly over the dough, roll into a long cylinder and cut into 9 equal pieces. Place slices in a greased 8×8 baking dish and allow to rise for 45 minutes to an hour until doubled in size, then bake at 400 degrees for 20 minutes.

Mix together frosting ingredients. When the rolls have cooled slightly, spread with a rubber spatula over the top of the rolls while they're still in the dish.