Italian flatbread with prosciutto and fontina (piadina)
Italian flatbread with prosciutto and fontina (piadina)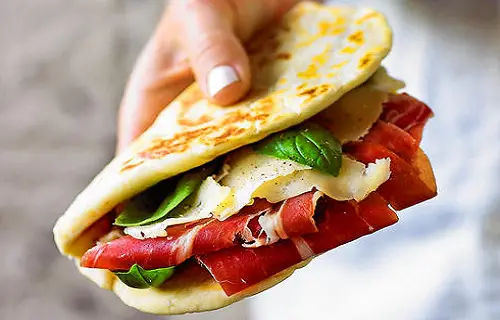 Ingredients
 525 g (3½ cups) plain flour, plus extra, to dust

 1½ tsp baking powder

115 g lard, softened, chopped

250 ml  (1 cup) milk

 2 tbsp olive oil, plus extra, to serve

 200 g fontina (see Note), thinly sliced

 16 slices prosciutto

 basil leaves and lemon wedges, to serve
Instructions
Chilling time 30 minutes

Place flour, baking powder and 1 tsp salt in the bowl of an electric mixer fitted with a dough hook. Knead, adding lard one piece at a time, for 2 minutes or until well incorporated.

Knead, gradually adding milk, on low speed until a dough forms. Transfer dough to a lightly floured work surface and knead for 6 minutes or until smooth and elastic. Enclose in plastic wrap and refrigerate for 30 mi

Transfer dough to a lightly floured work surface and divide into 4 equal portions. Roll each portion out to form a 3 mm-thick oval shape. Working with one portion at a time, brush both sides with oil, place in a frying pan over medium-high heat and cook for 2 minutes on each side or until lightly charred.

Top with the fontina, prosciutto and basil. Season with salt and pepper, drizzle with extra oil and fold in half. Serve with lemon wedges.
Note
Fontina, from delis and specialist food shops, is a melting Italian cheese. Substitute other good melting cheeses such as Gruyère or gouda.
Photography Chris Chen
As seen in Feast magazine, March 2014, Issue 29. For more recipes and articles, pick up a copy of this month's Feast magazine or check out our great subscriptions offers here.