Pollo Alla Milanese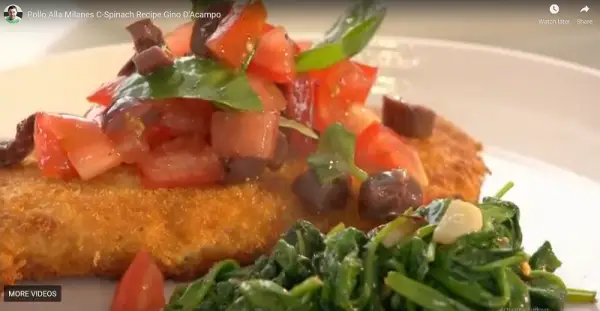 Ingredients
4 medium chicken breasts, skinless and boneless

100g/3½ plain flour

1 handful of fine breadcrumbs, toasted

2 eggs, beaten with salt and freshly ground black pepper

4 tbsp Italian extra virgin olive oil

For the sauce

4 fresh large plum tomatoes, chopped

1 handful of pitted black olives, sliced

3 tbsp flatleaf parsley, chopped

10 tbsp Italian olive oil, for frying

For the spinach

1 clove garlic, sliced

2 pinches dried, crushed chilli

500g/1lb 1½oz spinach leaves, washed

salt and freshly ground black pepper, to taste
Method
With the help of a meat mallet, beat the chicken breasts between two sheets of cling film until thin.

Dust the chicken breasts in flour, then dip each into the egg and then in the breadcrumbs making sure each piece is well coated.

Preheat the olive oil in a large frying pan and gently fry the chicken for approximately two minutes on each side, until they become golden and crisp. Place the browned breasts on some kitchen roll, allowing the excess oil to drain. Keep warm.

To make the sauce, in a large bowl, mix the tomatoes, olives and parsley together and season with some extra virgin olive oil and some salt and pepper. Allow this mixture to rest.