Italian Hot Giardiniera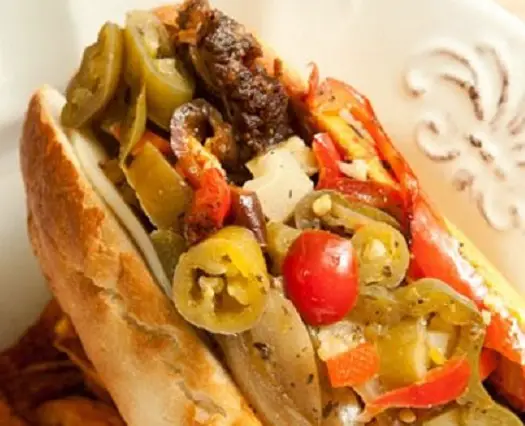 This recipe for Hot Giardiniera is great if your looking for something spicy to top your spaghetti, pizza, beef sandwich or Italian sausage. If your not familiar with giardiniera, it's tons of chopped vegetables marinated together with olive oil and vinegar.
INGREDIENTS
1 red sweet pepper, diced into tiny pieces

1/2 green sweet pepper, diced into tiny pieces

2 bunches of long green onions, finely chopped

3 cauliflower florets, cut into very tiny pieces

3 large cloves of garlic, finely chopped

15 jalapeno peppers, cut into little pieces

20 green olives, sliced in half

2 plum tomatoes. Diced into small pieces

2 stalks of celery, chopped

2 carrots, slices into small julienne pieces

1 and 1/2 cups of extra virgin olive oil

1 and 1/2 cups of cider vinegar

1 Tbls of salt

1 Tbls of freshly ground black pepper

2 17oz air-seal square glass jars

 

 

PREPARATION

 

Simply mix all the vegetable together in a large bowl.

Season with salt and pepper.

Place the vegetable mixture in the two jars.

Add equal portions of oil and vinegar to both completely covering the vegetable.

Tightly seal the jar and refrigerate for at least two days before using.

The giardiniera should last refrigerated around 2 weeks.

The most difficult part of this recipe is waiting the two days.