Zucchini e Pomodori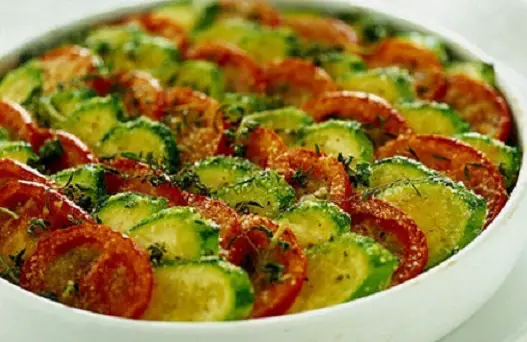 Zucchini e Pomodori is a classic recipe. You can always add chicken, shrimp, ricotta or other meats or cheeses to suit your taste.
INGREDIENTS
Serves 6 to 8 people.

6 zucchini

1 red onion, sliced thin

2 cloves of garlic, chopped

2 Tbls of olive oil

1 Tbls of butter

6 tomatoes, sliced

1/4 cup of fresh parsley, chopped

1/2 cup of fresh grated parmesan cheese

1 tsp of oregano

1/2 tsp of salt

1/2 tsp of fresh ground pepper

1/2 tsp of crushed red pepper flakes

PREPARATION

Preheat the oven to 350 degrees.

Cut the zucchini into thin slices lengthwise

In a skillet, sauté the onions and garlic in the oil and butter for 2 minutes.

In a greased backing dish, cover the bottom with the zucchini slices.

Add a layer of tomatoes.

Sprinkle half the parmesan cheese, parsley, oregano, salt pepper and red pepper over the top.

Add half of the onions.

Add another layer and bake for 40 to 45 minutes.