Italian Macaroni and Cheese
Italian Macaroni and Cheese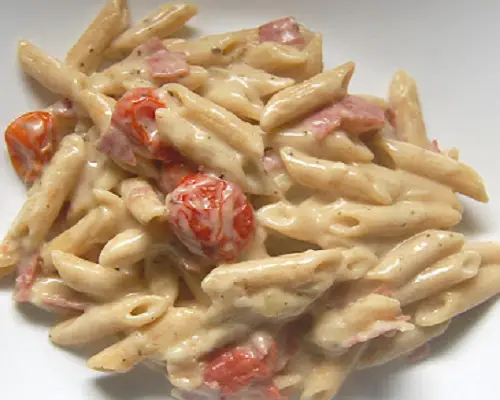 Ingredients
12 ounces whole wheat penne pasta

1 pint cherry tomatoes

1 tablespoon olive oil

1 tablespoon balsamic vinegar

Salt and pepper

4 tablespoons butter

1 onion, chopped

4 ounces Genoa salami, chopped

3 cloves garlic, minced

1/4 cup flour

1/2 cup white wine

1/2 cup chicken stock

2 cups milk

2 cups shredded Italian cheese blend

1/4 cup prepared pesto
Directions
1. Cook penne in boiling salted water according to package directions; drain.
2. Meanwhile, preheat the oven to 400 degrees. Place tomatoes on a foil lined baking sheet. Drizzle with olive oil, balsamic vinegar, and salt and pepper. Cook until tomatoes are bursting, about 15 minutes.
3. While tomatoes are roasting, melt the butter in a large saucepan over medium heat. Add onion and salami and cook until onion is softened. Add garlic; cook and stir for 1 minute. Add flour and stir until the ingredients are coated and the mixture is bubbling, about 1 additional minute.
4. Stir in wine and cook until reduced. Stir in chicken stock and milk. Heat to boiling, then reduce heat. Stir in cheese until melted, then add the pesto. Season with salt and pepper to taste.
5. Combine penne, roasted tomatoes, and cheese sauce. Serve immediately.