Italian Wedding Soup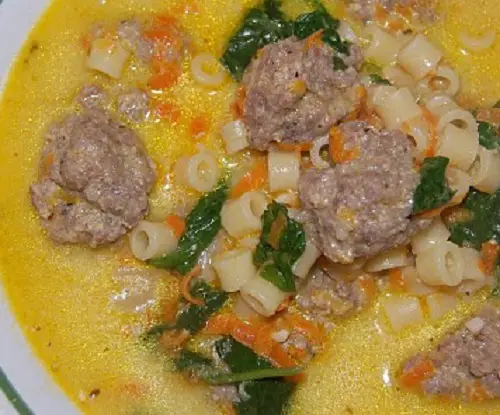 Ingrediets
For the meatballs:
1 pound Italian sausage

1 egg, slightly beaten

1/3 cup grated Parmesan cheese

3 cloves garlic, minced

1/3 cup Italian bread crumbs

1/4 teaspoon nutmeg

Salt and black pepper to taste
For the soup:
2 to 3 tablespoons olive oil

1 medium yellow onion, chopped

3 to 4 cloves garlic, minced

3 carrots, shredded

4 celery ribs, chopped

2 bay leaves

8 cups chicken stock

2 cups milk1

1/2 cups ditalini pasta

4 to 5 ounces baby spinach
Directions
1. Mix meatball ingredients.
2. Heat olive oil in large stock pot and saute onion and garlic until soft. Add carrots and celery and saute another few minutes. Meanwhile, with wet hands, start forming small meatballs — about 3/4 inches across.
3. Add chicken stock and milk to vegetables and bring to a boil. Drop meatballs into boiling soup, add pasta, and let it boil about 8 minutes; reduce heat. Let simmer 10 to 15 minutes. Add spinach, and when the spinach is wilted the soup is done. Garnish with parmesan cheese, if desired.