Pumpkin-Apple Cake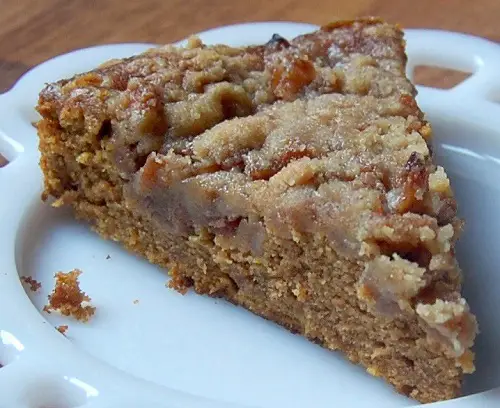 Ingredients
For the apples:
3 tablespoons unsalted butter

4 cups diced peeled cored Granny Smith apples (about 4 large)

3 tablespoons sugar

1 teaspoon ground cinnamon
For the cake:
1 1/2 cups all purpose flour

1 cup firmly packed golden brown sugar

1/2 cup (1 stick) unsalted butter, cut into pieces, room temperature

1/2 teaspoon salt

3/4 cup canned pure pumpkin

1/3 cup sour cream

2 tablespoons sugar

2 teaspoons pumpkin pie spice

1 teaspoon baking soda

2 large eggs
Directions
1. For the apples, melt butter in large nonstick skillet over medium-high heat. Add apples; sauté until apples begin to brown, about 5 minutes. Add sugar and cinnamon and sauté until golden brown, about 3 minutes longer. Cool.
2. For the cake, preheat oven to 350 degrees. Butter 9-inch-diameter springform pan. Combine flour, brown sugar, butter, and salt in large bowl. Using electric mixer, beat until mixture resembles coarse meal. Set aside 2/3 cup of mixture for topping. Beat pumpkin, sour cream, 2 tablespoons sugar, spice, and baking soda into remaining flour mixture, beating just until smooth. Beat in eggs. Transfer batter to pan. Scatter apples evenly over top. Sprinkle reserved topping over apples.
3. Bake cake until topping is golden brown and tester inserted into center comes out clean, about 1 hour 10 minutes. Cool cake in pan on rack 20 minutes. Run knife around pan sides to loosen cake. Release pan sides from cake. Transfer cake to platter. Serve warm or at room temperature with ice cream.