Kale and Potato Soup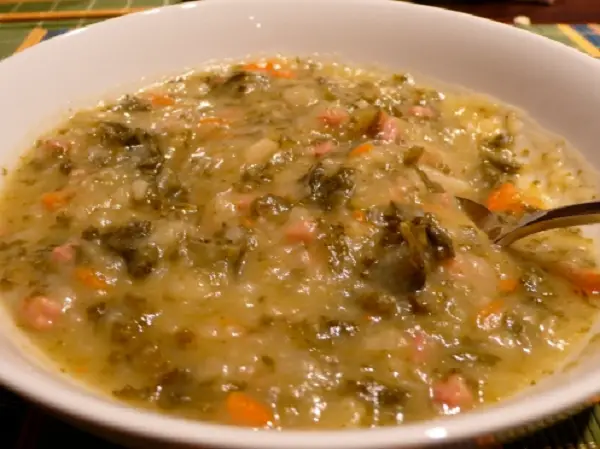 Ingredients
    1 onion, chopped

    1 stalk of celery, chopped

    1 carrot, peeled and chopped

    3 large potatoes, peeled and cut up into small pieces

    ½ a bunch of kale, washed, stems removed and chopped

    1 cup of ham, cut into small cubes

    2 cups broth (I used vegetable, but you can use anything that you have on hand)

    4 cups water (you could stick to broth and not use water, but all of the vegetables add enough of their own flavor that you don't want to overpower the soup)

    1 bay leaf

    2 tbsp extra-virgin olive oil

    salt and pepper to taste
Directions
Heat olive oil over medium heat in a heavy bottomed soup pot, add onions, sauté for a few minutes until they become translucent.

Add the celery and carrot and sauté for another minute before adding the potatoes, ham, kale and the bay leaf.

Add the broth and enough water to cover, bring to a boil and lower the heat to let simmer. Stir occasionally, adding water if it starts to dry out as it is cooking.

Once the potatoes are fully cooked press them with a wooden spoon against the side of the pot.

There may be an easier way to mash them in the pot, but this worked for me.

Mashing them every time I stirred the pot while it was simmering on the stove.

 I let it cook for about 2 hours, but it will be fully cooked after an hour. Serve hot.