Kale & Roasted Cauliflower Salad
Kale & Roasted Cauliflower Salad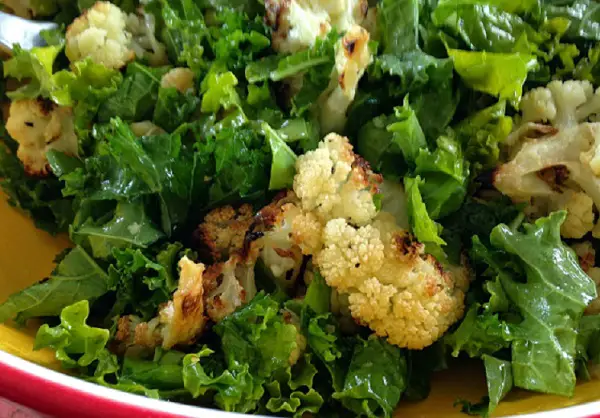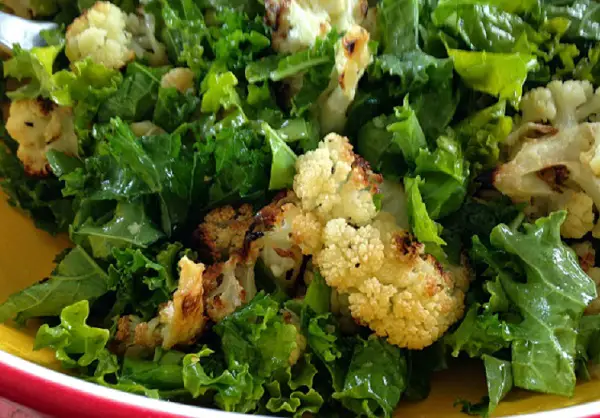 Ingredients:
Serves 4-6
Roasted Cauliflower:
1 tbsp extra virgin olive oil

1 tbsp freshly squeezed lemon juice

3 cloves of garlic, finely minced

freshly ground black pepper

1 large head of cauliflower, cut into bite size pieces

1/4 cup freshly grated Parmesan cheese
Salad:
1 bunch of kale, leaves stripped from stalks & chopped
Dressing:
1 tbsp extra virgin olive oil

2 tsp lemon juice (I used a little more than 1 tbsp)

1 tsp maple syrup (I used 2 tsp)

freshly ground black pepper
Directions:
Preheat oven to 425F/220C and line one rimmed baking sheet with parchment paper.

In a large bowl, whisk together oil, juice, garlic and pepper.

Cut cauliflower into bite size florets and add to the bowl, tossing well.

Arrange the cauliflower in a single layer on the baking sheet. (Note: if the cauliflower looks dry, drizzle with a little more oil).   Roast for 20-25 minutes (depending on the size of the pieces), flipping the florets halfway through.  The cauliflower should be tender crisp when done and a bit charred.

As soon as the cauliflower comes out of the oven, toss with Parmesan cheese.
While the cauliflower is roasting, prepare the kale & dressing.
In a large serving bowl, whisk together the oil, lemon juice, maple syrup and pepper. Taste for seasoning. Add the chopped kale  using your hands to massage the dressing into the kale until fully coated.
2.  Add the roasted cauliflower to the kale and toss to combine.
Serve immediately