Roasted Butternut Squash Lasagna
Roasted Butternut Squash Lasagna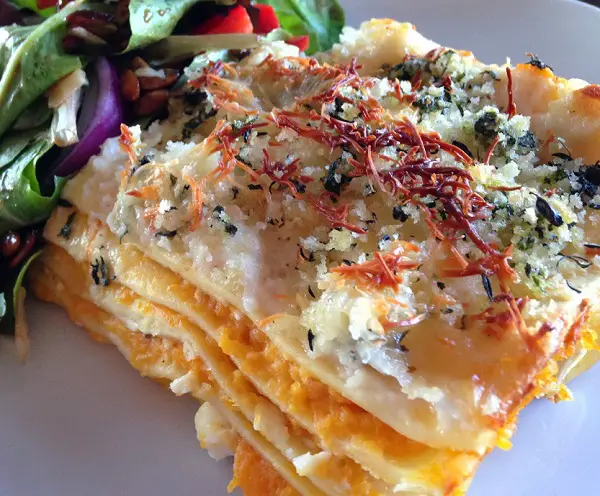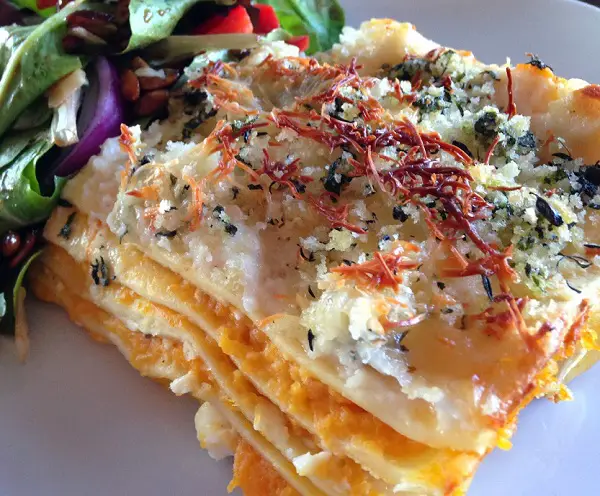 Ingredients: 
Serves 6
Lasagna sheets
– I used purchased fresh sheets & needed 1 1/2 packages – enough for 5 layers in a 9×13 or baking pan. Or purchase dry – oven ready lasagna sheets.
Roasted squash:
1 large butternut squash, cut in half length wise & seeded

2 large cloves garlic, unpeeled but tip removed

2 sprigs fresh thyme

2 tsp extra virgin olive oil

Freshly ground black pepper
Goat cheese & sage sauce:
4 tbsp butter

2 sprigs fresh sage

1/4 cup all purpose flour

3 cups milk

1 1/4 cups crumbled fresh goat Feta (6oz/175g)

3/4 cup finely grated 4 cheese blend (or any combination provolone, parmesan, fontina, asiago, pecorino romano)

1/4 tsp freshly grated nutmeg

freshly ground black pepper
Breadcrumb topping:
1/2 cup panko crumbs

2 tsp fresh thyme leaves, chopped

1 tsp fresh sage leaves, chopped

2 tbsp butter, melted

1/4-1/2 cup grated cheese
Directions:
Roasting the squash & garlic: about 1 hour
Preheat the oven to 425F/220C and line a rimmed baking sheet with foil or parchment.

Place the squash, cut side up on the baking sheet. Place one clove of garlic in each well, along with one sprig of thyme each. Drizzle with olive oil and sprinkle with a few grindings of pepper.

Roast until the squash is fork tender and starts to golden. Depending on the size of the squash, this should take 40-50 minutes. Remove from the oven and allow to cool.  Discard the thyme sprigs.

In a large bowl, scoop out the squash "meat" and garlic pulp. Mash until smooth and taste for seasoning.
This step can be prepared in advance and kept in the fridge in a sealed container for up to two days.
Preparing Goat Feta & Sage Bechamel Sauce: about 20 minutes
Melt butter in a medium sized sauce pan over medium heat. Add the sage sprigs and cook until the butter is fragrant and the butter turns slightly brown, but does not burn. Discard the sage.

Add the flour and whisk until smooth and golden, scraping the sides (about 2 minutes). Gradually whisk in the milk ("gradual" so there are no lumps) and cook, whisking occasionally until the sauce is thick enough to form a thin coat on the back of a spoon. (about 15 minutes). Stir in the crumbled feta and grated cheese blend, grated nutmeg and freshly ground pepper to taste.

Set aside 1 1/2 cups and mix the rest of the sauce in with the squash mixture.
Best prepared on the day you are assembling the lasagna.
Preparing the topping: about 5 minutes
Melt the butter.

In a small bowl, combine the panko crumbs, melted butter, chopped sage & thyme leaves with a pinch of salt and freshly ground pepper. Set aside.
Best prepared on the day you are assembling the lasagna.
Assembling the lasagna: about 10 minutes
Spread 1/2 cup prepared cheese sauce over the bottom of a 9×13″ baking pan. Cover the sauce with a layer of pasta. Spread 1 cup of squash mixture evenly over the pasta.

Repeat pasta layer (5 layers in total) and squash layer (4 in total). Top layer should be pasta.

Spread remaining Bechamel sauce evenly over the top.

Sprinkle panko mixture and remaining 1/2 cup of grated cheese evenly.
This stage can also be prepared up to 2 days ahead of time. Cover with plastic wrap and refrigerate   If so, bring to room temperature (about 1 hour) before baking.
Baking Lasagna:
Preheat oven to 350F/175C (if baking same day, just reduce temperature from 425F/220C).

Cover room temperature lasagna with foil. I like to spray the foil with a little olive oil Pam to keep the cheese from sticking during the baking. Bake for 40 minutes.

Remove foil and continue to bake until the top is golden, panko really crunchy and some bubbling around the edges (about 15-20 minutes). Note: I insert a toothpick into the center and check to make sure it's hot when I take it out).

Cool for at least 10 minutes before serving..