Parmesan Broccoli Rabe Bread Pudding with Pancetta
Parmesan Broccoli Rabe Bread Pudding with Pancetta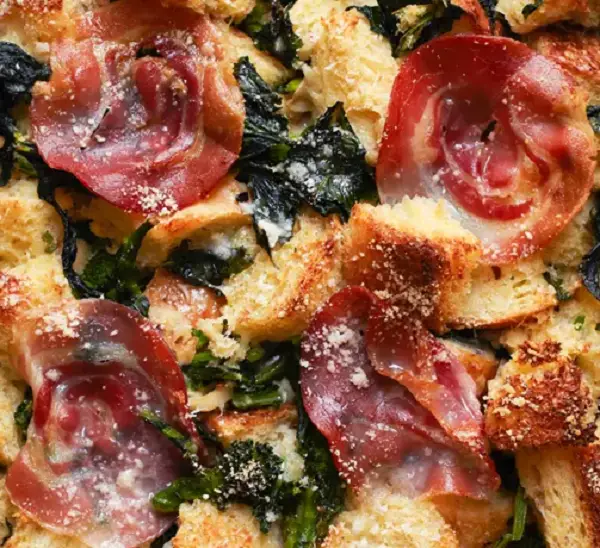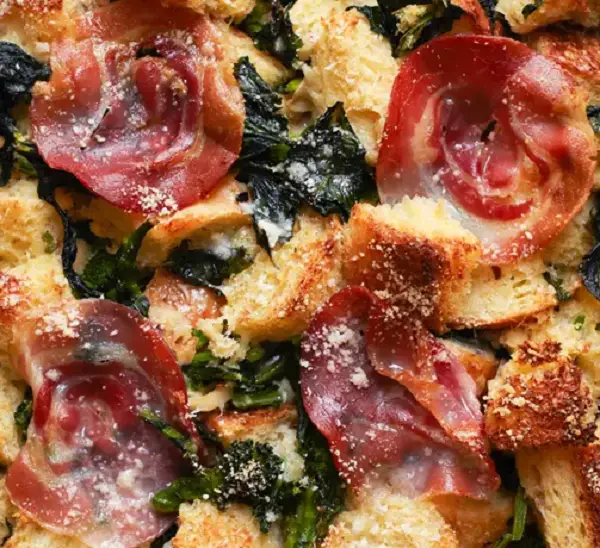 Ingredients:
Serves 4-6
1 tbsp olive oil

2 garlic cloves, thinly sliced

1/2-1 tsp crushed red pepper flakes

1 medium bunch broccoli rabe (rapini), trimmed, coarsely chopped

2 tsp kosher salt

1/2 tsp freshly ground black pepper

6 large eggs, beaten

1 1/2 cups buttermilk (or your usual milk)

1/2 lb/690g  country-style white bread, cut into 1-inch pieces (about 8 cups)

1/2 cup plus 2 tablespoons finely grated Parmesan

6 thin slices pancetta
Directions:
Preheat oven to 350°F/175°C. I used my convection toaster oven at 325°F/162°C for 40 minutes.

Heat oil in a large skillet over medium heat. (Since I used diced pancetta, I sauteed them until almost crispy), then added garlic and red pepper flakes. Toss until garlic is softened and aromatic, about 30 seconds. Add blanched (see note at bottom) broccoli rabe; season with salt and pepper. Cook, tossing, until wilted, about 2 minutes; let cool slightly.

Meanwhile, whisk eggs, buttermilk, 2 teaspoons salt, and 1/2 teaspoons pepper in a large bowl. Add the cubed bread and toss to blend and allow the bread to soak up the egg mixture. Add broccoli rabe mixture, bread, and 1/2 cup Parmesan; toss to combine. Transfer to a 1-1/2-qt. baking dish.

If you are using sliced pancetta, lay them over top of the pudding. If not, just use the remaining Parmesan

Bake pudding until puffed, browned in spots, and set in the center, 45-55 minutes.