Krapfen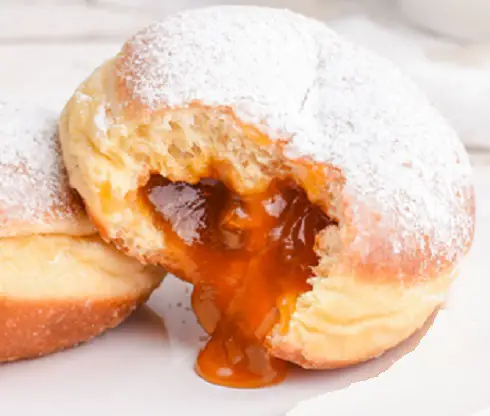 In South Tyrol, Triveneto and other parts of Northern Italy, the food is called kraffen or krapfen, while in the southern parts it can be referred as bomba .
Ingredients for 4/6 people:
For the yeast:
120 g. of flour
30 g.of yeast
½ glass of warm milk
For the dough:
250 g. of flour
2 egg yolks
60 g. of sugar
60 g. of butter
1 dash of brandy (or rum)
For the filling:
Fruit jam (or cream)
1 tablespoon of milk
To cook:
Oil for frying
Powdered sugar for sprinkling
PREPARATION:
Place the flour in a bowl large enough. Dissolve the yeast in the milk, add the flour working so that it forms a soft dough and smooth. Cover the dough with a kitchen towel and let rise in warm place for possibly 40 minutes.
After this time, when the volume of the dough has doubled, gradually add the egg yolks and the sugar, flour, brandy and butter, continuing to stir with a wooden spoon. Cover and let rise again until the dough has doubled in volume.
Then relax the mixture on floured pastry board soon, assottigliatelo with a rolling pin to a thickness of ½ cm and the rim of a glass, cut discs of pasta 6-8 cm wide. Take half of the disks and the center of each place a spoonful of jam, then, with a moistened finger in the milk lapped the edges, cover with another disk and welded edges.
Once all packaged donuts, cover with a cloth and let stand for about 15 minutes. Meanwhile make heat the cooking oil over high heat in a large pan and when the oil is hot, dip the donuts turning them at least once, to gild them evenly.
Drain, pat dry on paper towels, sprinkle with powdered sugar and serve while still hot.