Canazzu
SICILIAN VEGETABLE STEW: CANAZZU or canazzo, is a flavorful mélange of stewed vegetables consisting mainly of eggplant, much like caponata. This rustic  dish is similar to the southern Italian ciambotta,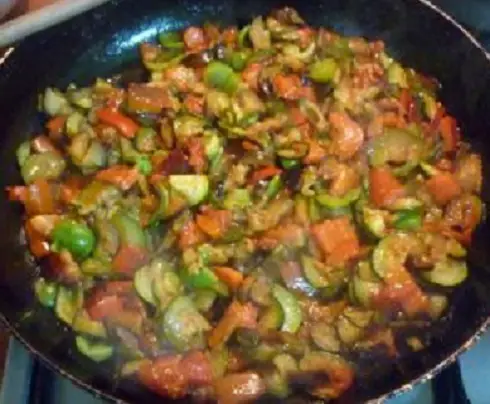 Ingredients For 4 people:
4 medium potatoes
2 long eggplants
2 peppers
peeled tomatoes 250g
1 onion
½ cup extra virgin olive oil
chopped parsley
salt, pepper.
PREPARATION
Peel the potatoes and wash them together with eggplants and peppers to which you have previously removed core and seeds and then cut all the vegetables into pieces not too large.
In a large saucepan fry for a few moments the sliced onion and before will be golden brown add the tomatoes that you will cook for about five minutes. Add the vegetables and season with salt, cover and let simmer over medium heat for about 30 minutes.
After 30 minutes uncover the pan and let it dry (if necessary). Turn off the heat, sprinkle with pepper and chopped parsley and cover again, serving no earlier than ten minutes.