Herrengröstl
Bozner Herrengröstl, a very old traditional recipe of South Tyrol, known as Tiroler Gröstl in Austria.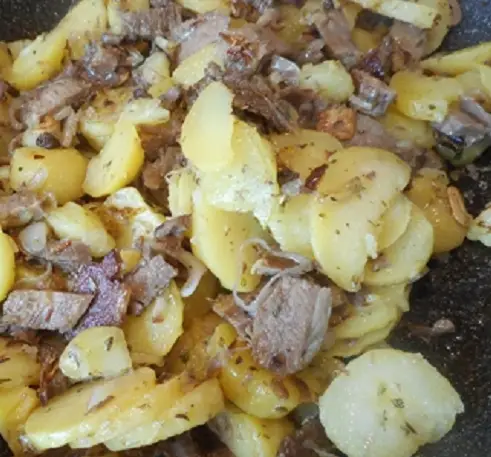 Ingredients For 4 people:
1 kg potatoes
lean veal sliced 300 gr
lard 25 grams
butter 50g
1 onion, chopped
3 tablespoons of olive oil
1 bay leaf
marjoram
thyme
parsley
salt.
PREPARATION
Boil the potatoes in boiling salted water, then peel and slice.
In a skillet over high heat, sauté the chopped onion together with lard, then add the potato slices and cook.
Reduce heat and add the butter a little at a time. Finish cooking.
In a separate pan, saute the slices of meat with oil and butter over high heat, season with salt and add the meat to potatoes. Sprinkle with herbs and mix well.
Serve piping hot.