Lamb with Roasted Peppers
Lamb with Roasted Peppers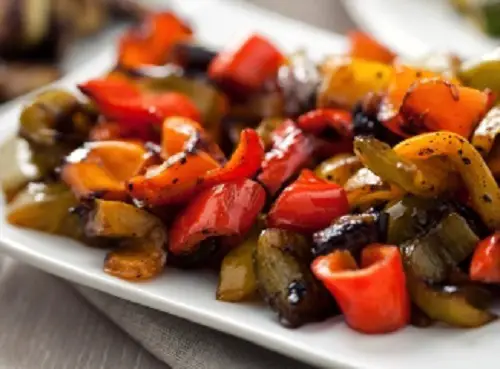 INGREDIENTS
3 pounds of lamb, cubed

1/2 tsp of salt

1/2 tsp of fresh ground black pepper

1/2 cup of flour for dredging

1/4 cup of extra virgin olive oil

2 cloves of garlic, chopped

1 yellow onion, sliced

1 cup of dry white wine

1 cup of chicken broth

2 15oz cans of diced tomatoes

1 bay leaf

1 tsp of dried oregano

PREPARATION

Season the flour with salt and pepper.

Dredge the lamb in the flour.

In a large pot saute the onions and garlic for 2 minutes in the olive oil.

Remove the onions and garlic and set aside.

Cook the lamb in the oil until browned.

Return the onions and garlic to the pot.

Add the wine, broth, tomatoes, peppers, bay leaf and oregano to the pot.

Cook for around 1 hour until meat is nice and tender.

Serves 6 to 8 people.