Lemon & Garlic Tilapia with Zucchini & Pepper
Lemon & Garlic Tilapia with Zucchini & Pepper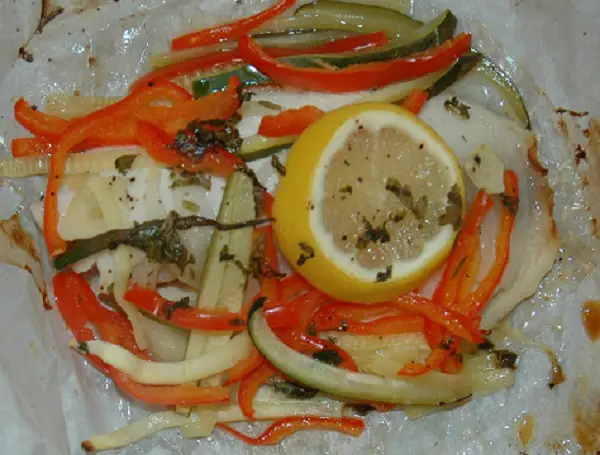 Ingredients
2 tilapia fillets

1/4 small onion, thinly sliced

1 clove garlic, thinly sliced1 small zucchini, julienned

1 small red bell pepper, julienned2 lemons- I juiced, 1 sliced

Fresh Parsley

Extra virgin olive oil

Salt & pepper
Directions
Preheat oven to 400 degrees F.

For each fillet, cut a sheet of parchment paper (you can also use aluminum foil) twice the size of the fish fillet.

Lay one fish fillet in the middle of the parchment paper. Layer the 1/2 the onion slices, 1/2 the garlic slices, 1/2 of the zucchini, 1/2 of the red bell pepper, & 1-2 lemon slices on top of the fillet.  Juice 1/2 lemon & drizzle a little extra virgin olive oil & salt & pepper over the fillet & veg.

For the "FOLD"- Take one side of the parchment paper LENGTH-WISE & half it (fold it) over the other side. WIDTH-WISE- Fold in the sides to create a little "package".

Bake  on a baking sheet for 30 minutes.

Remove the fish from the oven.

Remove or serve in the packet but be careful to avoid the steam when opening.