Chickpea & Fennel Salad with Arugula
Chickpea & Fennel Salad with Arugula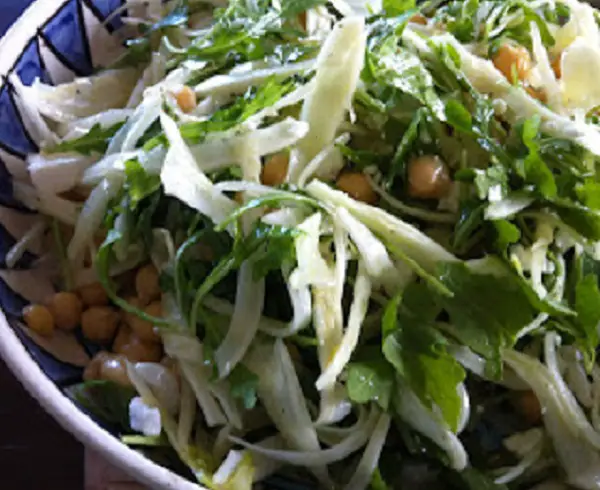 Ingredients:
Serves 4
1/2 lb/250 g dried chickpeas

Sea salt

Enough water to cover the chickpeas plus 2 inches

Salad:

2 bulbs fennel

1/3 cup extra-virgin olive oil

Sea salt

Freshly ground black pepper

Juice of 1 lemon

1-2 handfuls baby arugula

1/4 cup fresh parsley, finely chopped

1/2 lb/250g  flavorful goat cheese
Directions:
Chickpeas
One day prior to serving the salad, cover the chickpeas with at least two inches of cold water. Add 4 teaspoons (20 g) sea salt and let sit overnight at room temperature.

Drain and rinse the chickpeas before cooking. Place the drained, soaked chickpeas in a pot and cover with mineral or tap water.

Bring to a boil, turn down the heat, and simmer for 1 hour. Using a perforated spoon, skim the froth that forms at the surface of the water. Season the chickpeas with fine salt when they are soft. Let cool to room temperature in the cooking water. Drain.
Salad:
Remove the outside layers of the fennel, which are usually not as tender as the center layers or "heart." Reserve the outer pieces for another use. You should have about a little less than 1/2 lb/200g of fennel hearts.

Split the fennel lengthwise and wash under cold, running water. Pat dry. Slice the fennel very thinly with a sharp knife or mandolin. Place the slices in the serving dish and season with the olive oil, sea salt, and freshly ground black pepper. Squeeze the lemon juice over and toss the fennel. Taste to adjust the seasoning. Add the cooked chickpeas and toss well.

Cover and refrigerate for 1 hour to allow the chickpeas to absorb the seasoning. Overnight works too!

Prepare the salad greens and herbs – wash, spin dry and set aside.

I just crumbled the cheese

Add greens to the chickpeas and fennel, and toss, being careful not to damage the leaves. Taste and adjust the seasoning.

Transfer to a serving platter and evenly distribute the cheese throughout the salad.