Lemon Linguine with Shrimp Zucchini and Spinach
Lemon Linguine with Shrimp Zucchini and Spinach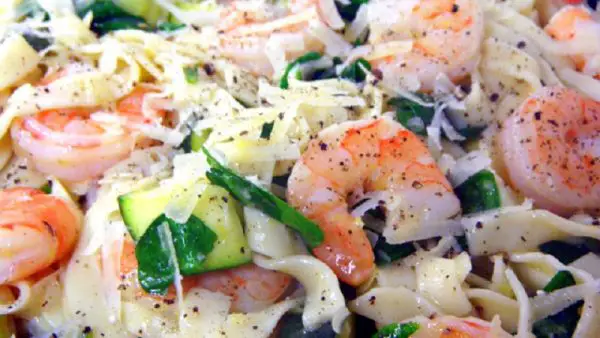 Ingredients
1 Pound

Linguine Pasta

2 TBS

Olive Oil

2 Shallots

, Small Dice

4 Cloves

Garlic, Minced

2 Medium

Zucchini, cut 1/2 inch slices, then quartered

Zest and Juice from 2 medium

Lemons

Salt and Pepper

To Taste

1/4 Cup

Olive Oil

10 Ounces (1 Bag)

Spinach, stems removed

1 Pound

Shrimp, deveined, tails removed

1/2 to 1 Cup

Pasta Water

Fresh Grated

Parmesan Cheese for garnish

Pepper

To Taste
Cooking Directions
Make Pasta according to package directions, minus one minute less than listed for an al dente pasta that will absorb the sauce. Reserve 1 Cup starchy water before draining.
While the pasta s cooking, in a LARGE saute pan over medium high heat, add the olive oil
Once the oil is close to smoking, add the shallots and saute for 3 minutes.
Add the Garlic and continue to saute for an additional minute.
Add the zucchini and continue to saute for a couple more minutes.
Add the lemon zest and juice and season with pinches of Salt and Pepper
Add additional Olive Oil and allow to come up to temperature.
Add the spinach and Shrimp and saute for just a couple of minutes. the shrimp will cook very fast, turning pink and the spinach will wilt.
Meanwhile, the pasta should be done. Drain the starchy salty water, reserving a cup to loosen the sauce.
Add the Pasta to the lemon/shrimp/spinach/zucchini with sauce and stir to combine.
Add additional pasta water as needed to loosen the sauce a bit. The pasta will absorb the sauce, leaving the noodles wet but no additional liquid pooling in the bottom.
Garnish with fresh grated Parmesan Cheese
Serve HOT and ENJOY!