Lentil Soup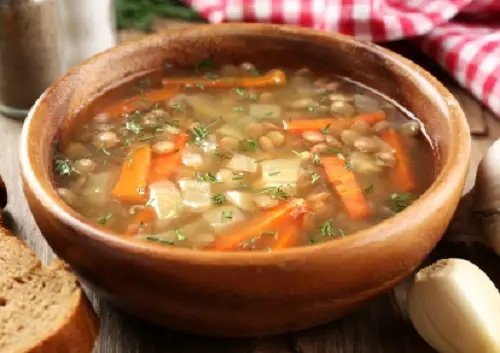 Lentils are small dried legumes which come in a variety of different colors, the most common being brown. Compared to other dried beans, lentils are quick to prepare. They are low in fat and high in protein and fiber. Be careful not to overcook them because they can get mushy.
In Italy, lentils are often used in first courses, salads and soups. In different regions of Italy they used in pastas, risotto, rice and various meat dishes. Lentils with sausage, lentils with lamb and lentils with oxtails are just a few dishes lentils are used in.

PREPARATION
Serves about 8 people
1 pound of dried brown lentils

1 large yellow onion, chopped

2 stalks of celery, chopped

2 carrots, chopped

3 cloves of garlic, chopped

2Tbls of extra virgin olive oil

1 slice of pancetta, chopped

1 15oz can of diced tomatoes

2 sprigs of fresh rosemary

1 tsp of dried thyme

2 bay leaves

6 cups of beef or vegetable stock

1 pound of spinach or escarole

1/ tsp of salt

½ tsp of fresh ground black pepper

1 pound of ditali pasta

PREPARATION

In a large pot sauté the pancetta in the olive oil until lightly brown.

Add the garlic, onions, carrots and celery for 2 minutes until tender.

Add the lentils, thyme, rosemary and bay leaves.

Drizzle with a little more olive oil and cook for 2 more minutes

Season with salt and pepper

Add the broth and tomatoes and bring to a boil

Reduce the heat and simmer for about an hour

Add the spinach or escarole for about 10 more minutes until leaves are wilted.

Bring 4 quarts of salted water to a boil and cook the pasta until al dente. About 8 minutes.

Remove the bay leaves and the rosemary from the soup before serving.

Add the pasta to a bowl and ladle the soup on top.
http://www.great-chicago-italian-recipes.com/lentil_soup.html