Roast Pork with Fennel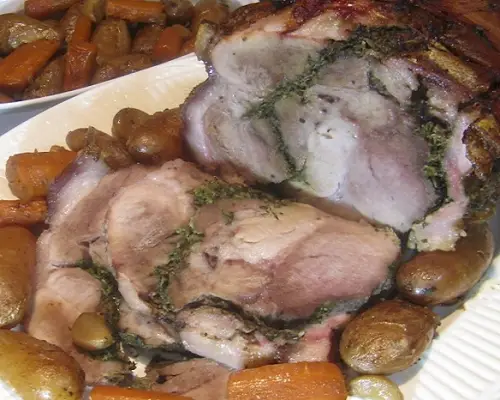 Porchetta Recipe
Ingredients
1 raw picnic shoulder ham, skin on, bone removed, butterflied

4 tbsp fennel fronds, chopped

4 tbsp fresh parsley, chopped

8 – 10 garlic cloves, diced

3 – 4 tbsp fresh rosemary, chopped

olive oil

1 tbsp marjoram

12 whole garlic cloves

1 fennel bulb, thinly sliced

1 onion, thinly sliced

3 celery stalks, chopped

3 carrots, cut into large pieces

fingerlings or new potatoes

3 rosemary sprigs

6 cups chicken stock, divided

3 cups dry white wine, divided

3 tbsp AP flour

butter

water
Directions
About an hour before the porchetta is to go into the oven, combine the fennel fronds, parsley, chopped garlic, and rosemary. Add enough olive oil to make a paste, stir,  and set aside.

Use a sharp knife to score the pork skin, making a checkerboard or diamond pattern. Try to avoid cutting deeply into the pork meat, if at all.

Place the roast, skin-side down, and "open it," revealing as much surface area inside the roast as possible.

Evenly coat the exposed flesh with the herbal paste created in Step 1. Season with marjoram before liberally seasoning with salt & pepper.

Use twine to tie the roast securely. Set roast aside while it loses its chill.

In a roasting pan, add the sliced onions, fennel, celery, and whole garlic cloves. Season liberally with salt & pepper

Place the roast atop the bed of roasting vegetables. Pre-heat oven to 450˚.

Coat the roast with olive oil, add 2 cups stock plus 1 cup wine to the roasting pan.

Place roasting pan in pre-heated oven. Every 20 minutes, baste the roast with the pan juices, add more stock and wine to the pan, if needed.  (Be sure to reserve 2 cups of stock and 1/2 cup of wine for use later.)

Meanwhile, place potatoes and carrots into a large bowl, season with salt and pepper, some rosemary, and enough olive oil to coat. Mix well.

After 60 minutes total time, reduce oven temperature to 325˚, baste the roast adding more liquid to the pan if needed, and place the seasoned carrots and potatoes into the roasting pan.

From this point forward, continue to baste the roast every 30 minutes or so, replenishing the pan juices when necessary.

Roast will be finished when the internal temperature reaches 165˚. When ready, remove roast to a cutting board and tent with aluminum foil to rest for at least 15 minutes. Remove the carrots and potatoes to a covered bowl. Strain the pan juices from remaining stewing vegetables.

Use the reserved 1/2 cup of wine to deglaze the roasting pan over high heat.

Use a grease separator to remove all but 3 tbsp of grease from the strained liquid.

Reduce heat to medium, add the 3 tbsp of grease to the roasting pan, and add 3 tbsp AP flour. Mix thoroughly and cook for a minute or so to create a roux.

Add the remaining pan juice liquids and stir until the sauce begins to thicken.

Begin adding the reserved of stock to the pan, stirring constantly, over medium heat.

Once all the stock has been added and the sauce thickened, taste for seasoning, remove from heat, and add a tab of butter to finish the sauce.

Before carving the roast, use a small knife to remove the skin (crackling), which may be served with the roast or left in the kitchen as the Cook's reward.

Slice and serve the roast, accompanied by the sauce and reserved roasted vegetables.
From the      https://fromthebartolinikitchens.com